Southwest Airlines Engine Was Missing a Fan Blade, NTSB Says
David Wagman | April 18, 2018
The National Transportation Safety Board said the faulty engine on a Southwest Airlines plane that made an emergency landing in Philadelphia was missing a fan blade.
The Dallas-bound Boeing 737 from New York was forced to land in Philadelphia on April 17 when an engine exploded with 143 passengers and five crew members aboard.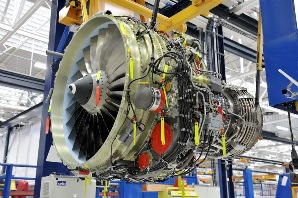 (Click to enlarge.) A CFM56-7B engine similar to one that failed April 17. Credit: Engine Lease FinanceOne passenger was killed. Her death was the first attributed to U.S. commercial aviation since 2009 and the first in Southwest's 50-year history.
NTSB Chairman Robert Sumwalt said at a press conference that a fan blade was missing from the engine assembly and there was evidence of "metal fatigue" where it separated.
The Boeing 737-700 was powered by CFM56-7B engines. The engines were produced by CFM International, a 50/50 joint company of GE and Safran Aircraft Engines of France. (Watch a video explaining how the engine works.)
CFM says it sent a team of technical representatives to the site to assist the NTSB in its investigation.
GE produces the high-pressure compressor, combustor and high-pressure turbine; SNECMA manufactures the fan, gearbox, exhaust and the low-pressure turbine; and some components are made by Avio of Italy. The engines are assembled by GE in Evendale, Ohio, and by SNECMA in Villaroche, France.
According to a statement, the CFM56-7B engine powering this aircraft has compiled an "outstanding safety and reliability record" since entering revenues service in 1997. It powers an estimated 6,700 aircraft worldwide. The engine has accumulated more than 350 million flight hours.
The NTSB reports that in August 2016, a Boeing 737-700, operating as Southwest Airlines flight 3472, experienced an "uncontained engine failure and cabin depressurization" as it climbed after takeoff. The plane landed without further incident and no passengers were injured.