FAA to Order Ultrasound Inspections of Aircraft Engines
David Wagman | April 19, 2018
The U.S. Federal Aviation Administration says it will require inspections of CFM56-7B engines like the one that failed April 17 on a Southwest Airlines Boeing 737, killing a passenger. The directive will require an ultrasonic inspection of fan blades when they reach a certain number of cycles.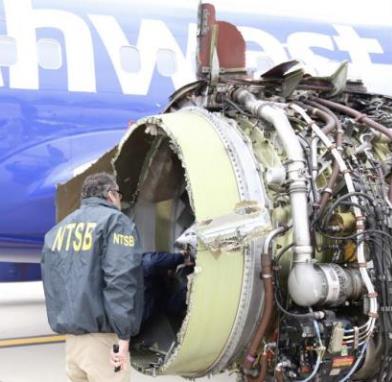 An NTSB inspector examines the failed engine on April 17. Credit: UPIThe National Transportation Safety Board (NTSB) says that a crack was found in a fan blade of the CFM International 56-7B turbofan engine that separated during the incident. NTSB Chairman, Robert Sumwalt, said that the blade had broken twice, once where it attached to a hub and once almost halfway through it.
One of the cracks was consistent with metal fatigue, he told a news conference.
Southwest Airlines reportedly said in an email that workers did a visual inspection of the engine that failed. An ultrasonic inspection of the engine was scheduled for this December.
Engineering360 reported earlier that NTSB records show that in 2016 a Boeing 737-700, operating as Southwest Airlines flight 3472, experienced an "uncontained engine failure and cabin depressurization" as it climbed after takeoff. The plane landed without further incident and no passengers were injured.
The Boeing 737-700 involved in the April 17 accident was powered by CFM56-7B engines. The engines were produced by CFM International, a 50/50 joint company of GE and Safran Aircraft Engines of France. CFM says it sent a team of technical representatives to the site to assist the NTSB in its investigation.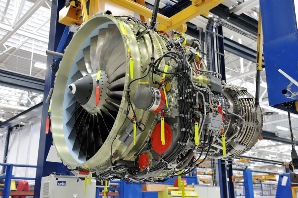 A CFM56-7B engine similar to the one that failed. Credit: GEGE produces the high-pressure compressor, combustor and high-pressure turbine; SNECMA manufactures the fan, gearbox, exhaust and the low-pressure turbine; and some components are made by Avio of Italy. The engines are assembled by GE in Evendale, Ohio, and by SNECMA in Villaroche, France.
A team of NTSB investigators is expected to travel to the airline's headquarters in Dallas to search the plane's maintenance records. They will examine inspection records for the engine and for the fan blades.
Former NTSB Chairman Jim Hall told CNBC, "Southwest is known for its rapid turnarounds and keeping its aircraft in the air. So, that, of course, results in a heavy use of the engine. My main concern is making sure there's adequate time for oversight and inspection of these aircraft because of the extensive use."
CNN reports that the engine cowling was found about 65 miles northwest of Philadelphia. The general public has reported some debris but no "internal components" have yet been recovered. Once they have all the pieces, an NTSB team will piece it back together.
Sumwalt said the pilots were able to straighten the jet within seconds after the plane tilted to a 41.3-degree angle following the engine failure. They landed the plane at a speed of 165 knots, about 190 miles per hour. The usual speed is around 135 knots.