These Four States Rely the Most on Wind Energy
David Wagman | April 18, 2018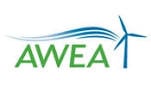 Wind power now makes up more than 30 percent of the electric generating capacity in four states, Iowa, Kansas, Oklahoma and South Dakota. New Mexico added wind power capacity at a faster rate than any other state in 2017.
Industry milestones from 2017 are included in the American Wind Energy Association (AWEA) U.S. Wind Industry Annual Market Report 2017. Operating wind power capacity grew 9 percent in 2017.
The installation of 7,017 megawatts (MW) of wind in 2017 brings total U.S. installed wind power capacity to 88,973 MW. That includes just under 54,000 wind turbines operating in 41 states, Guam and Puerto Rico.
According to the report, the industry employs 105,500 people across all 50 states. Nationally, wind turbine technician is one of the country's two fastest growing jobs, along with solar installer, according to the U.S. Bureau of Labor Statistics and cited by AWEA. There are over 500 U.S. wind-related factories across 41 states producing components for the wind industry, supporting more than 23,000 U.S. factory jobs, AWEA says.