AWEA Touts Job Growth in Annual Wind Report
David Wagman | April 20, 2017
Wind power added jobs at a rate more than nine times faster than the overall economy says the American Wind Energy Association (AWEA) in its 2016 U.S. Wind Industry Annual Market Report.
Altogether, the industry installed more than 8,000 megawatts of generating capacity in 2016 at a total investment of more than $14 billion.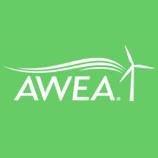 The trade group says that wind energy added nearly 15,000 jobs in 2016, bringing total wind industry employment to more than 102,000.
Total U.S. wind capacity stood at 82,143 MW at the start of 2016. "Bigger, better technology enables new wind turbines to generate 50% more electricity than those built in 2009, and at 66% lower cost," says Tom Kiernan, CEO of AWEA. He said that wind could supply 10% of U.S. electricity by 2020.
In a separate interview with the Washington Post, Kiernan cited studies that show that low-cost natural gas prices, not wind, is the major force driving the shift away from nuclear and coal in the U.S.
He was quoted as saying, "This is confirmed by data from electricity market monitors, SEC disclosures by coal and nuclear plant owners, and the simple fact that the vast majority of coal and nuclear retirements are occurring in regions with the least wind generation."
(Read "Facing Threats, Nukes Work to Polish Their Green Cred." And "As Natural Gas Use Rises, PJM Eyes Reliability.")
The AWEA annual report says that wind energy produced more than 30% of the electricity produced in Iowa and South Dakota in 2016. Kansas, Oklahoma, and North Dakota generated over 20% of their electricity from wind. Another 20 states produce more than 5% of their electricity from wind energy.
The ERCOT and SPP regions competed for new wind power penetration records throughout 2016, both nearing 50% wind energy on several occasions, AWEA said.
The trade group also said that innovations in wind turbine technology such as taller towers, longer blades, and more sophisticated control systems are increasing the amount of electricity wind turbines generate. Wind turbines built in 2014 and 2015 achieved capacity factors over 40% during 2016.
In March, Navigant Consulting released a report saying that American wind power expansion could drive 248,000 jobs and $85 billion dollars in economic activity over the next four years. These and other economic benefits will result from the addition of 35,000 MW of new wind power capacity through 2020.