Scientists in the UK have developed a chemical reaction that is catalyzed using simple iron salts – an abundant, inexpensive and sustainable alternative to costlier and scarcer metals.
The core reaction, developed at the University of Huddersfield, portends economic gains for the pharmaceutical and agrichemical industries, its developers say.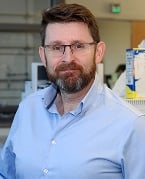 Joe Sweeney.Catalysis is an essential component of the chemical industry. It's estimated that it underpins as much as 40% of the world's GDP. The downside is that most catalytic processes use scarce and expensive metals such as rhodium, palladium, platinum or iridium, says project leader Joe Sweeney, a professor of catalysis and chemical biology.
"The advantage is that they are usually very active, so they can mediate reactions quicker and at a lower catalytic loading, but if you look at tables of abundance in the earth's crust, these metals are all right at the bottom," he says. "So there has been a big push towards devising catalytic processes that use more sustainable catalysts, such as iron, which is probably the most abundant metal."
The process developed by the Huddersfield team is an efficient and sustainable new iron catalytic reaction that could prove to be far cheaper than an equivalent process using scarce and expensive metals, researchers say. A further advantage is that iron, which plays a fundamental part in diet, is considered non-toxic.
Another benefit to the process is that it's high accessible, Sweeney says. "A key driver of organic chemistry is that it should be practical and shouldn't require esoteric conditions. Our process is carried out using standard apparatus in a standard laboratory at room temperature. That is kind of the benchmark for organic chemistry."
Further research into the novel chemical process continues with additional material in the publication pipeline, he says.