Work Starts on $200m Dam Strengthening Project
David Wagman | April 04, 2018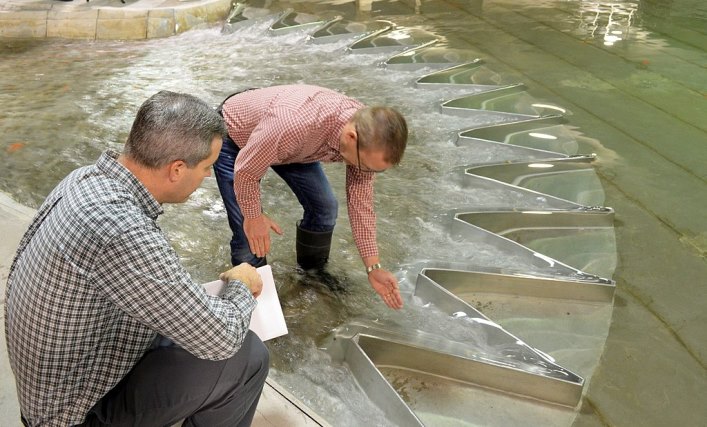 In this 2014 image, Nathan Cox, hydraulic engineer with the U.S. Army Corps of Engineers Sacramento District (left), and Dr. Blake Tullis, associate professor at Utah State University's Water Research Laboratory, observe water flows at a scale model of the Isabella Dam Safety Modification Project.
Work is under way on the $204 million second phase of the Isabella Dam project near Bakersfield, Calif. The project began after a 2006 report found the 65-year-old dam had an "unacceptably high probability of failure." Work includes raising the dam, sealing leak,s and improving its seismic resiliency.
In September 2017, the U.S. Army Corps of Engineers awarded the contract to Flatiron/Dragados/Sukut Joint Venture of Benecia, Calif. Work also includes construction of a 300-foot-long emergency spillway.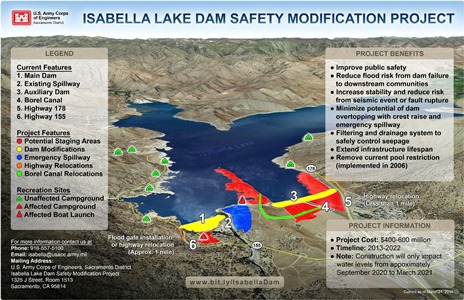 (Click to enlarge.) Graphic of dam strengthening project. Credit: USACEThe main dam is a 185-foot-high earth-fill dam, and the auxiliary dam is a 100-foot-high earth-fill dam. The service spillway is located between the two dams. The reservoir has a gross storage capacity of 568,075 acre feet. The dam was authorized under the Flood Control Act of 1944 and construction was completed in 1953.
Isabella Lake and its dams reduce flood risk for Bakersfield and the surrounding region, and is a primary water source for water users throughout Kern County. The project is expected to be complete by 2022.
With more than 300,000 people living and working below the dams, primarily in the town of Lake Isabella and the city of Bakersfield, the U.S. Army Corps of Engineers began a dam safety modification study in 2006 to address seismic, hydrologic (potential over-topping during an extreme flood event) and seepage issues at the dams.
The approved project plan includes:
Raising the main and auxiliary dams up to 16 feet higher to minimize the risk of over-topping.
Adding a filter and drain on the downstream slope of the main dam to increase stability.
Improving stability of the existing spillway.
Creating an additional 300-foot-wide emergency spillway.