Highest Dam in the U.S. Faces Threat
David Wagman | February 13, 2017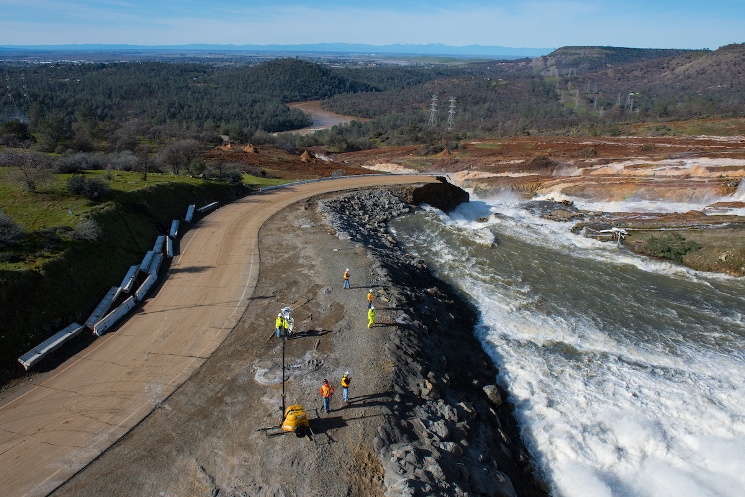 In mid-February 2017, winter precipitation filled Lake Oroville north of California's capital, Sacramento, putting exceptional pressure on the Oroville Dam. The dam is a 770-foot-tall (230 meters) embankment dam that dates from 1968. The feared failure of the dam's spillway after a hole developed as water was being released prompted an evacuation order for 180,000 people downstream of the dam.
Lake Oroville and Oroville Dam are part of a complex which includes Hyatt Powerplant, Thermalito Diversion Dam and Powerplant, the Feather River Fish Hatchery, Thermalito Power Canal, Thermalito Forebay, Thermalito Pumping- Generating Plant, Thermalito Afterbay, and a visitors center.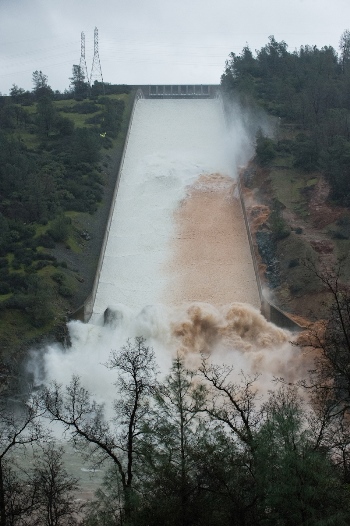 Water flowing down the spillway on Feb. 7, 2017. Credit: Kelly M. Grow/Calif. DWRThe Oroville-Thermalito Complex was designed as an efficient water and power system. It stores about 3.5 million acre-feet and generates power from releases made through Hyatt Powerplant and two other Thermalito generating plants. A fish barrier dam was built to lead salmon and steelhead returning to spawn into the Feather River Fish Hatchery.
Located in rock in the left abutment near the axis of Oroville Dam, Edward Hyatt Powerplant is an underground, hydroelectric, pumping-generating facility. Construction of the plant began in 1964 and was completed in 1967.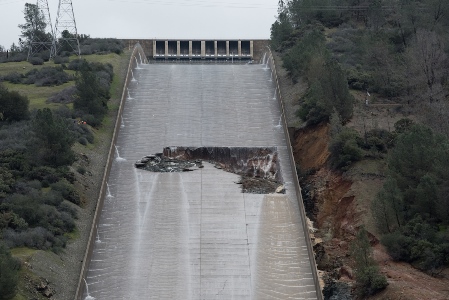 Eroded hole in the spillway on Feb. 7, 2017. Credit: Kelly M. Grow/Calif. DWRHyatt Powerplant produces power through a pumped-storage operation where water, released for elecrticity production in excess of local and downstream requirements, is returned to storage in Lake Oroville during off-peak periods and is used for generation during peak power demands.
Water from the lake is conveyed to the units through 22-foot-diameter penstocks and branch lines. After passing through the units, water is discharged through the draft tubes to one free surface and one full-flow tailrace tunnel.
From there the water enters the Thermalito Power Canal and flows into Thermalito Forebay. At the end of the forebay, water enters the Thermalito Afterbay and is used by the Thermalito Pumping-Generating Plant to produce electricity.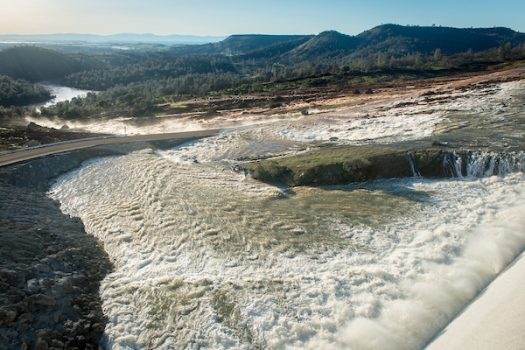 Water flowed over an auxiliary spillway after Lake Oroville water levels exceeded 901 feet elevation above sea level.On the pumping side of the facility, normal static head is 500-660 feet and the design dynamic head is 592 feet. Pumping unit size 1,870 cubic feet/second and 173,000 horsepower. On the generating side, normal static head is 410-676 feet and the design dynamic head is 615 feet. Unit sizes include three at 132 MVA and 2,800 cfs, and three at 141 MVA and 2,850 cfs.
Under rules set by the U.S. Army Corps of Engineers for facilities used for flood control, by mid-October each year Lake Oroville storage must be reduced to a specified level within the range of a maximum flood control pool of 750,000 acre-feet and a minimum flood control pool of 375,000 acre-feet. The allowable level within the range is recalculated each day, using an index that reflects the wetness of the watershed and the likelihood of heavy runoff from any incoming storms.
When high inflows occur, water is temporarily held in the flood reservation as necessary to maintain reservoir releases within prescribed limits that are designed to prevent downstream damage. The downstream flow limits set by the Corps of Engineers for Lake Oroville are 150,000 cfs north of Honcut Creek, 180,000 cfs above the mouth of the Yuba River, and 320,000 cfs south of the Bear River.
While water is being stored to maintain releases within target levels, reservoir storage may exceed the level allowable under the flood operating criteria, a condition known as "encroachment" into the required flood reservation. The Corps of Engineers criteria recognize that such encroachment will occur and establish release criteria for such conditions.
Reservoir operators must balance the conflicting objectives of controlling the current flood event and preparing for a possible future one: the encroachment is eliminated when downstream conditions permit.