Explore Climate Variability with Interactive Tool
S. Himmelstein | March 22, 2018
Is a warming trend underway in Wollongong, Australia, and is it cooling down in Cairo, Egypt? A new interactive map enables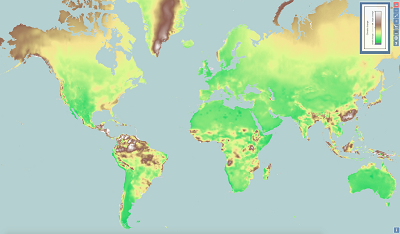 The ClimateEx interactive map shows where climate is expected to change most between 2000 and 2070. Brown and white areas indicate greater change in temperature, precipitation or both. Green indicates areas of least change. Source: University of Cincinnatithe comparison of regional and local climates anywhere in the world. The map developed at the University of Cincinnati draws on five decades of public meteorological data recorded from 50,000 international weather stations around the Earth.
The data, gathered by the public database WorldClim, is mapped in a four-square-kilometer grid that gives researchers a visual of what's happening with temperatures and precipitation from pole to pole.
Users select a location (query) and ClimateEx returns a similarity map that visually communicates locations of places in the world with climates similar to the climate at a query location. The educational tool also communicates the magnitude of temporal climate change by calculating a global map of local magnitudes of climate change.
The designers say the map can support strategic, long-term planning and decision-making on the future development of urbanized space. It can also help prepare for emerging threats such as increasing the frequency or appearance of extreme weather phenomena.