The future of climate in 540 North American cities
S. Himmelstein | February 13, 2019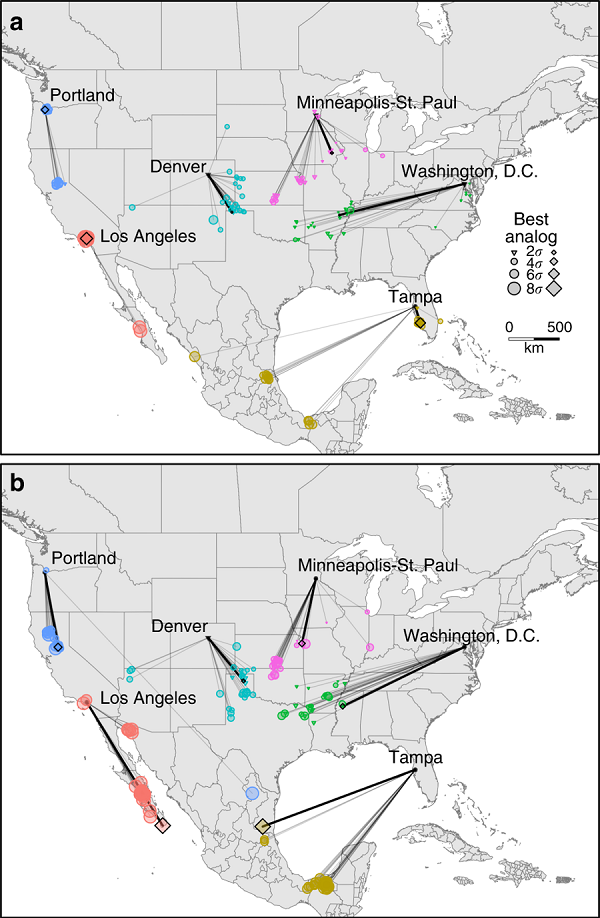 For each of six example cities, colored triangles and circles indicate the location of the best contemporary climatic analog to 2080's climate for the 27 future climate scenarios for a) mitigated and b) unmitigated emissions scenarios. Triangles indicate representative contemporary analogs; circle size indicates increasingly poor analogs. Colored diamonds and bold lines indicate contemporary climatic analogs for the ensemble mean across individual projections. Source: Matthew Fitzpatrick/University of Maryland
The impact of climate change for city dwellers is the focus of a study conducted by University of Maryland and North Carolina State University researchers. The researchers project that in one generation, the climate experienced in many North American cities will change to that of locations hundreds of miles away, or to a new climate unlike any currently found on the continent. A climate-analog analysis matches the expected future climate in each of 540 urban areas with the current climate of another location, providing a relatable picture of what is likely in store by 2080.
The similarity between each city's future climate expected by 2080 and contemporary climate in the Western Hemisphere north of the equator was mapped. Twelve measures of climate, including minimum and maximum temperature and precipitation during the four seasons, were considered. Climate differences under two emission trajectories were analyzed: unmitigated emissions, a trend most in line with what might be expected given current policies and the speed of global action, and mitigated emissions, which assumes policies are implemented to limit emissions, such as the Paris Agreement.
The analysis indicates that even if limits are placed on emissions, the climate of North American urban areas will feel substantially different, and in many cases completely unlike climates found anywhere in the northwestern part of the globe.
Under the unmitigated emissions case, the climate of North American urban areas will become, on average, most like the contemporary climate of locations about 500 miles away and mainly to the south. In the eastern U.S., nearly all urban areas, including Boston, New York and Philadelphia, will become most similar to contemporary climates to the south and southwest. Climates of most urban areas in the central and western U.S. will become most similar to contemporary climates found to the south or southeast.
An associated interactive web application was designed to communicate how climate change may impact the lives of a large portion of the population of the U.S. and Canada.
The research is published in Nature Communications.