Fast Charging of Electronics, Functional Fabrics by Candy Cane Supercapacitor
S. Himmelstein | March 20, 2018
While developing polymer networks for an application involving actuation and tactile sensing, researchers from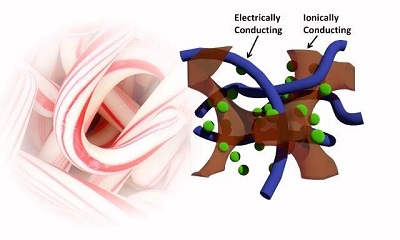 Supercapacitors woven like the red and white of a candy cane could have increased charge storage capacity compared to current technology. Source: Tiesheng Wang/University of Cambridgethe University of Cambridge, U.K., realized that their stretchable, bendable material could potentially be used for energy storage.
Conducting polymers, such as poly(3,4-ethylenedioxythiophene) (PEDOT), show great promise as supercapacitor materials due to their high pseudocapacitance, low cost, toughness and flexibility. However, the ions necessary for these chemical reactions can only access the top few nanometers below the material surface, leaving the rest of the electrode as dead weight. Previous efforts to enhance ion mobility focused on nanostructures with thin conducting polymer layers deposited on support materials. This arrangement renders the polymer more accessible to ions but results in a fragile material with poor electrochemical stability.
Weaving the conducting PEDOT polymer with poly(ethylene oxide) (PEO), an ion-storage polymer, formed a candy cane-like architecture, with one material assuming the role of the white stripe and the other the red.
The supercapacitor demonstrated improvements over PEDOT alone in terms of flexibility and cycling stability. It also had nearly double the specific capacitance compared to conventional PEDOT-based supercapacitors. The researchers documented a specific capacitance of 182 F/g and cycling stability of 97.5 percent capacitance retention after 3000 cycles. The electrodes were shown to bend to a <200 μm radius of curvature without breaking.
The team will next test polyaniline as a substitute for PEDOT, as the former can store more charge per unit of mass. The candy cane supercapacitor could power electronics embedded in smart clothing, wearable and implantable devices, and soft robotics.
The research was presented at the 255th National Meeting & Exposition of the American Chemical Society in New Orleans, March 18-22.