A Beetle-Inspired, Cellulose-Based Ultra-White Coating
S. Himmelstein | March 15, 2018
Most commercially available white products, including sun creams, cosmetics and paints, incorporate titanium dioxide or other highly refractive particles to reflect light efficiently. These materials are safe but are not fully sustainable or biocompatible.
A cellulose-based material devised by researchers from Aalto University in Finland, and the University of Cambridge, U.K., is 20 times whiter than paper. The non-toxic, lightweight and edible ultra-white coating was inspired by a Southeast Asian beetle.
The Cyphochilus beetle produces its ultra-white coloring not with pigments but by exploiting the geometry of a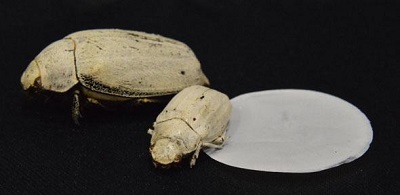 The Cyphochilus beetle inspired development of a super-thin, non-toxic and edible ultra-white coating that could be used to make brighter paints and coatings in the cosmetic, food or pharmaceutical industries. Source: University of Cambridgedense network of chitin, the structure of which scatters light extremely efficiently. This results in very thin and light ultra-white coatings.
Using tiny strands of cellulose, or cellulose nanofibrils, the researchers replicated the structure of chitin and achieved the same ultra-white effect in a flexible membrane. The opacity and the whiteness of the end material were tuned by applying a combination of nanofibrils of varying diameters. Membranes composed of the thinnest fibers were more transparent; inclusion of medium and thick fibers resulted in a more opaque membrane. This approach was used to fine-tune the geometry of the nanofibrils so that they reflected the most light.
Like the beetle scales, the cellulose membranes are extremely thin: just a few millionths of a meter thick, although the researchers say that even thinner membranes could be produced by further optimizing the fabrication process. The membranes scatter light 20 to 30 times more efficiently than paper and could be used to produce next-generation sustainable and biocompatible white materials.