Purity of Elastomer Sealing Materials for Semiconductor Manufacturing
March 14, 2018
Sponsored Content
Sponsored content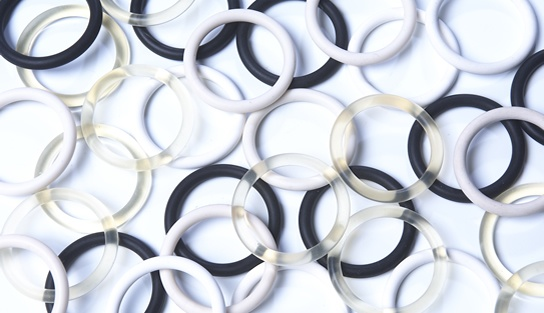 Figure 1. High-purity, erosion resistant elastomeric O-ring seals are critical in assuring process yield and device reliability during semiconductor manufacturing. Source: PPEContamination such as metal ions, particles and organic residues create device-level "killer defects." Contamination currently accounts for over 75 percent of the yield losses in semiconductor IC device manufacturing. Metallic contamination in particular is a key factor in device yield that results in the degradation of various electrical parameters. With today's nanoscale technology nodes, meeting cleanliness, purity and defect requirements has become increasingly challenging. High-purity sealing materials with metal ion contents restricted to parts per billion levels are imperative for semiconductor manufacturing.
Impact of Metal Ion Contamination
Metal ions easily diffuse through bulk silicon, along interfaces and across surfaces. Manufacturers cannot easily determine the metal source, and fab contamination investigations are extremely expensive. The killer defects from metal contamination cause reliability problems, as they are often undetected until after the device has been built into an electronic product. Metallic contamination can come from raw materials (dopants, gases, etc.) and equipment (seals, valves, etc.) as well as human engineers and technicians.

Figure 2. Contamination sources of semiconductor killer defects include metal ions, particulates and organic films.Critical impurity elements in silicon devices can be broken into several groups. Critical heavy metal contaminants include elements such as copper (Cu), iron (Fe), nickel (Ni), chromium (Cr), cobalt (Co) and molybdenum (Mo). Light metal contaminants include aluminum (Al); critical alkali metals contaminants such as sodium (Na), potassium (K) and lithium (Li); and alkali earth metals such as calcium (Ca), magnesium (Mg) and barium (Ba).
Heavy metals tend to diffuse through the semiconductor and are trapped in stressed regions such as the device junction region, which is precisely doped to a highly controlled resistivity. Trace amounts of metallic ion contaminants can change the resistivity and electrical characteristics such as carrier lifetime and mobility, impacting the device performance and yield.

Monovalent alkali metal ions can readily diffuse through the silicon dioxide (SiO2) dielectric even at room temperature. They tend to accumulate at the Si/SiO2 interface and cause unpredictable surface potentials and drift currents. The spacing between conductors has decreased with smaller node technologies, making the properties of dielectrics increasingly important to reduce RC delay, crosstalk noise and power dissipation. Alkali ions degrade the dielectric layers, causing current leakage, reduced dielectric break down voltage or even complete gate breakdown.
High-Purity Seal Materials
Seal materials with the extreme purity levels required for semiconductor fabrication are made by compounding, extruding, molding, cleaning and packaging in tightly controlled cleanroom environments using ultrapure raw materials. Fluoroelastomers (FKM), perfluoroelastomers (FFKM) and hybrid fluoropolymers are typically the base polymers used to manufacture Perlast®, Nanofluor® and Kimura® semiconductor elastomer seal materials.
Perlast perfluoroelastomer (FFKM) sealing materials are the most chemically resistant elastomers available. Perlast grades have been specifically developed to provide high-purity, high-temperature resistance and sealing force retention in critical semiconductor-sealing applications. Perlast G65HP has a 100 percent organic structure to minimize particle generation while providing excellent radical fluorine, chlorine and oxygen plasma resistance. Perlast G67P is a translucent beige FFKM compound with a semi-crystalline fluorinated organic nano-filler providing market leading low trace metal contents.
Figure 3 compares the purity levels of two Perlast compounds, G65HP and G67P, and a competitive semiconductor elastomer. Both G65HP and G67P have much higher purity levels compared to the competitor's product. While the G67P elastomer has much lower trace metal levels compared to G65HP, the latter has better plasma resistance or much lower plasma erosion rates compared to G67P and the competitive A1 product (see Figure 4). The high purity of G65HP, combined with the lower erosion rates, result in less overall metal contamination in the semiconductor process chamber.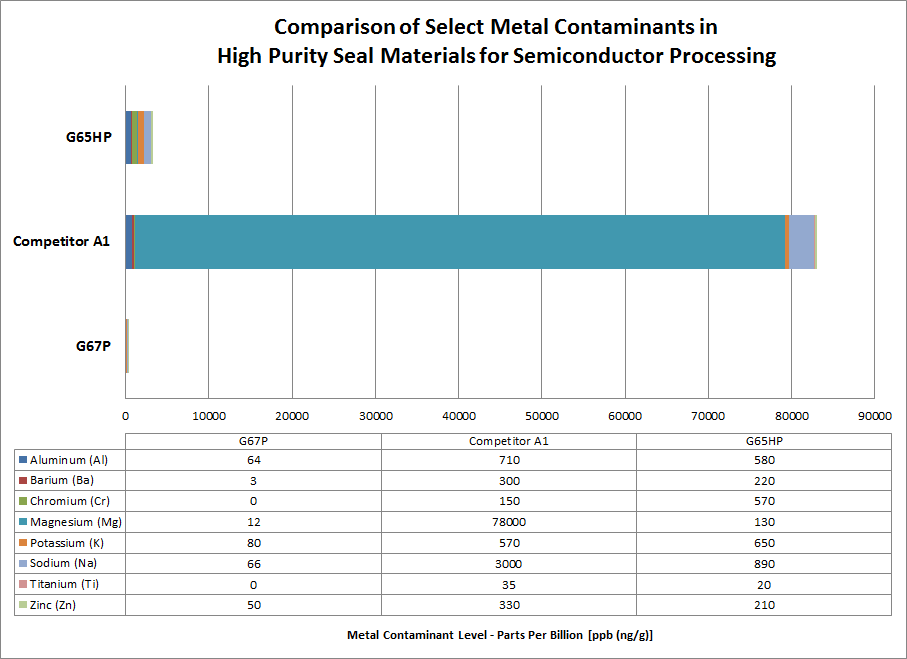 Figure 3. Comparison of select metal contaminants in high-purity Perlast semiconductor seal materials G65HP, G67P and a competitive product. Source: PPE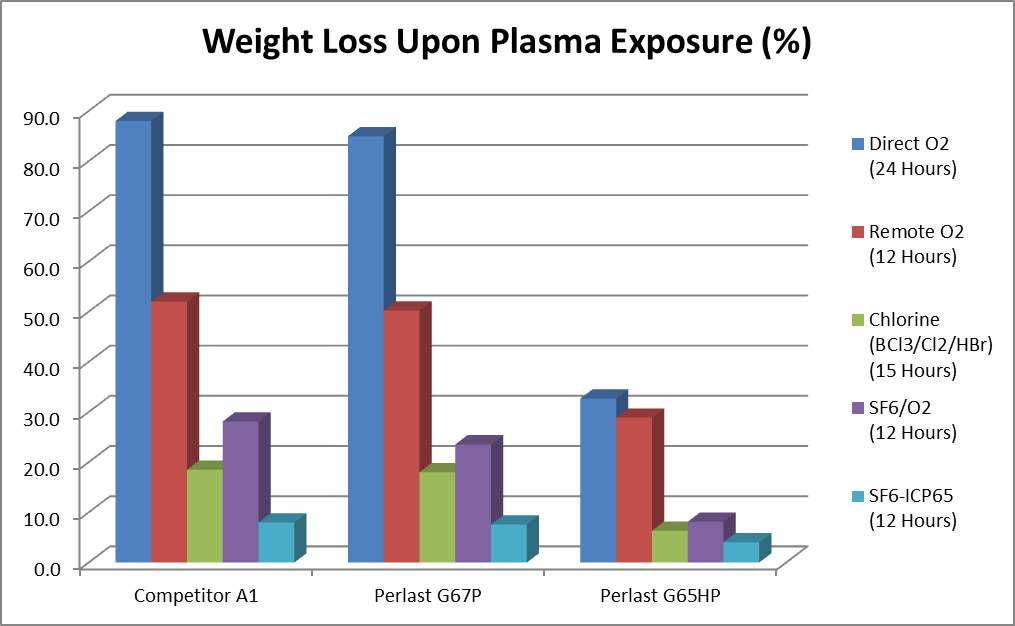 Figure 4. Plasma erosion resistance of high-purity Perlast semiconductor seal materials G65HP, G67P and a competitive product. Source: PPE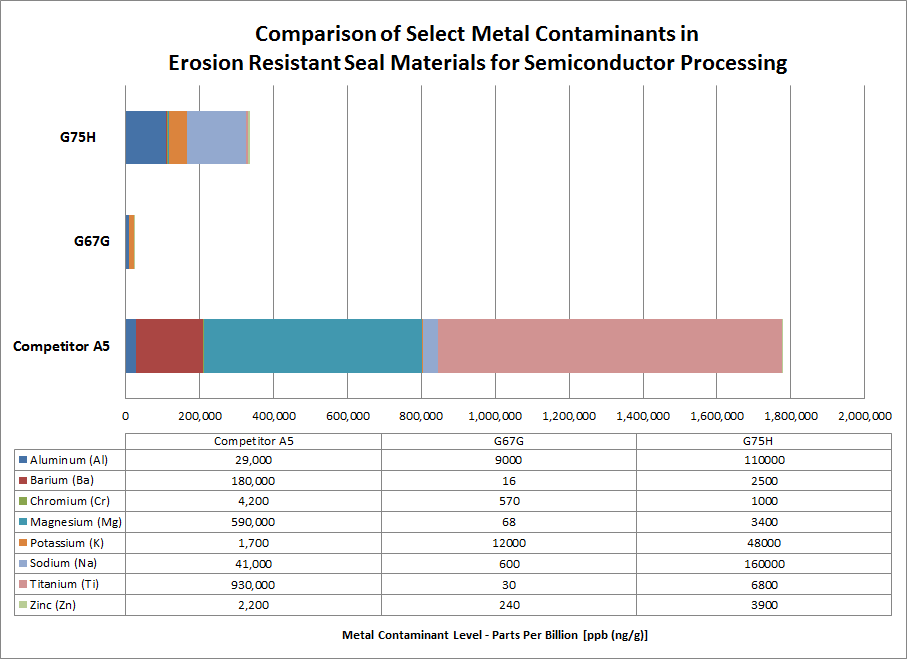 Figure 5. Comparison of select metal contaminants in erosion-resistant Perlast semiconductor seal materials G75H, G67G and a competitive product. Source: PPE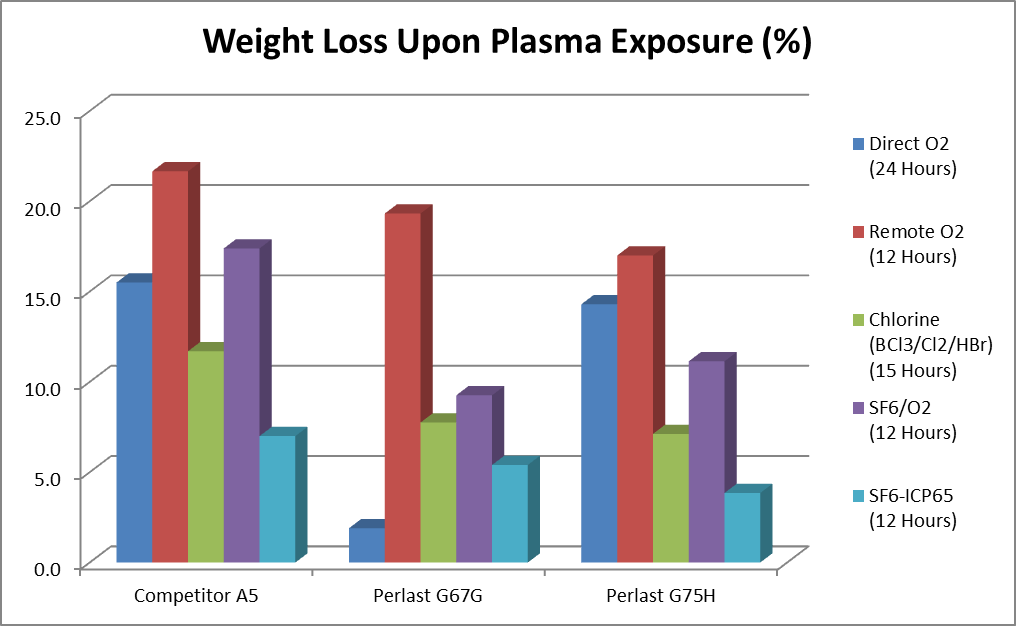 Figure 6. Plasma erosion resistance of high purity Perlast semiconductor seal materials G75H, G67G and a competitive product. Source: PPEFigure 5 compares the metal contaminant levels of competitor A5, Perlast G75H and Perlast G67G materials. Competitor A5 and Perlast G75H materials are both filled with micron-size inorganic filler particles. Inorganic fillers can contain metal compounds such as metal silicates or oxides. G67G has an advanced nanoparticle filler system with lower weight percent of filler, which provides maximum plasma resistance while minimizing contamination risk. Perlast G67G and G75H provide superior erosion resistance performance or much lower weigh losses in direct O2 plasma compared to Perlast G67P and Perlast G65HP.
PPE Semiconductor Seal Solutions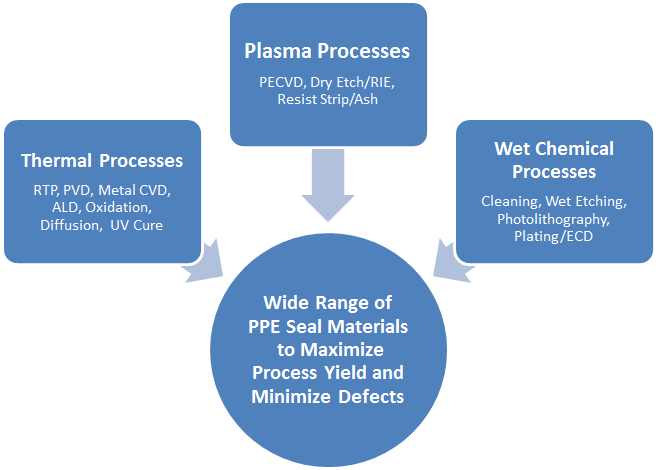 Figure 7. PPE has a wide selection of high performance seal materials to meet the demands of any semiconductor manufacturing process.
PPE has a sealing material suitable for every aspect of semiconductor fabrication including thermal, wet chemical and plasma processes. Critical metal contamination levels acceptable only a few years ago at the larger node-scale technologies are no longer viable in nanoscale semiconductor manufacturing. Semiconductor process seals must be made of ultrapure materials to reduce their contamination potential. They must also survive extreme temperatures, erosive plasmas and a mixture of fluorinated gases while providing the proper hardness, compression set and permeability for reliable sealing performance. PPE's Application Engineering (AE) team should be consulted to determine the PPE seal materials best suited for specific semiconductor applications. The AE team supports semiconductor customers and has the ability to do simulations and FEA analysis. It provides comprehensive design service for O-rings and seals. The AE team can help optimize seal installation and assembly (e.g., groove design) and provide failure analysis to find the root cause of any problems. PPE can be your partner in developing seal materials with extended performance and properties for emerging 7 nm IC fabrication processes and beyond.
Contamination and cleaning requirements for nanoscale technology nodes have changed drastically as semiconductor devices move toward faster operational speeds, smaller feature sizes, larger scales of integration and lower manufacturing costs from yield enhancements and defect reduction. PPE seals are clean-room manufactured and provide low particle generation, low trace metal contamination, low outgassing and low erosion rates resulting in higher yields, extended uptime, increased mean time between failure (MTBF), decreased wet clean frequency and minimized cost of ownership (CoO) through reduced cost of consumables (CoC).

PPE's ultrapure elastomers and exceptional service have made PPE one of the main semiconductor seal suppliers for many of the largest OEMs worldwide. Contact PPE's application engineers today to discuss your semiconductor process applications and select the most suitable, high-performance PPE products to evaluate for your project.