HyClamp Hygienic Gaskets for Demanding Applications
September 25, 2017
Sponsored Content
Sponsored content
There is no question that when dealing with fluid handling systems, the weakest links tend to be where connections, movement and adjustments are required. In food, beverage and pharmaceutical processing plants there are many parts that must be connected together with pipework. Hygienic design of these connections is imperative to allow proper cleaning, to maintain aseptic conditions.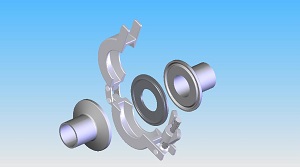 Hygienic pipe couplings (commonly known as Tri-clamps® or Tri-clover®) are typically used to connect pipework together. Elastomer gaskets are used to seal between the two faces of the ferrules, on the pipe ends, which are securely held in place by a clamp around the outside.
Manufacturing processes need to operate at the highest levels of cleanliness to ensure product purity. Joints within process lines can be a particularly troublesome source of contamination if the correct sealing material is not selected. Substandard seal performance can cause contamination resulting the associated process downtime and maintenance costs.
Seals and gaskets are often overlooked as being an off-the-shelf commodity. Don't make that mistake; partner with an experienced seal manufacturer such as Precision Polymer Engineering (PPE) who can identify and provide the optimum hygienic gaskets for your process lines.
Products
The HyClamp™ range of gaskets is specifically designed for hygienic pipe couplings in fluid handling systems. HyClamp™ gaskets are available in unique, high performance elastomer materials that are compliant with relevant approvals, engineered to meet the demanding requirements of aseptic applications in the food, dairy, pharmaceutical and biomedical industries.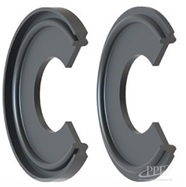 Figure 1: A sanitary HyClamp gasket. Source: PPEHyClamp™ gaskets are manufactured to BS 4825, DIN 32676 and ISO 2852 clamp size standards and conform to good manufacturing practices. In addition, all gaskets are designed with non-wetted part lines to prevent bacterial build-up. HyClamp™ gaskets can be supplied with full manufacturing batch traceability and certification of conformity.
Material Selection
It is important to understand variables such as temperature, chemical media, mechanical stresses, cleaning regimes and regulatory requirements when selecting gasket materials for demanding applications.
Elastomer material selection must consider three main factors:-
1) Chemical resistance
Compatibility with process media and cleaning regimes are the two main considerations. Incompatibility with fluids in the process line can cause some sealing materials to swell, crack and degrade, resulting in joint failure and process contamination. Cleaning fluids used for CIP (clean-in-place) procedures such as acids, alkalis and solvents will have different effects on different gasket materials.
2) Temperature capability
High process temperatures or repeated temperature cycling can deteriorate some elastomer materials rendering the gasket seals ineffective. Another important consideration is the effect of SIP (sterilization-in-place) processes that utilize steam or hot water to sanitize pipework. In these cases a material with high temperature capability, such as FFKM, would be recommended.
3) Certifications
Elastomer gasket materials often need to be compliant with industry regulations and standards, the most common being FDA 21 CFR177.2600, 3-A 18-03 Sanitary Standard, EC 1935/2004 and USP Class VI. In addition, certificates of conformity may be required for complete traceability of components.
HyClamp™ Elastomer Materials
Perlast® G74S and G75S are perfluoroelastomer (FFKM) materials that combine the chemical inertness and thermal stability of PTFE with the resilience and sealing force of an elastomer. Able to withstand a wide range of process media and aggressive cleaning agents, including organic and inorganic oxides, acids, alkalis, amines, solvents and esters; Perlast® G74S and G75S are ideal for sealing in the most aggressive environments, such as Water-For-Injection (WFI), and provide excellent performance in steam-in-place (SIP) and clean-in-place (CIP) regimes. Both materials are compliant with FDA, 3A 18-03 and USP Class VI. Perlast G75S is thermally stable at higher temperatures for extended duration, and is ideal for use in applications which require exposure to temperatures up to 310°C (590°F).
V70SW is a peroxide-cured, fluoroelastomer (FKM) material, compliant with FDA, 3A 18-03 and USP Class VI, developed to withstand steam-in-place (SIP) and clean-in-place (CIP) procedures within pipe work and vessels. Unlike other FDA-compliant fluoroelastomers, V70SW provides superior steam resistance, ideal for use in Stage II Sterilization processes which require exposure to steam up to 200°C (392°F).
E70Q (black) and E70H (white) are peroxide-cured, Ethylene Propylene Terpolymers (EPDM), compliant with FDA and USP Class VI, 3A 18-03 (E70Q only). Both materials provide excellent water and steam resistance and are suitable for use in all food contact applications including dry, aqueous and fatty media.
S71U is a transparent grade of platinum-cured, silicone rubber (VMQ) that is compliant with FDA and USP Class VI. Platinum cured elastomers provide a smooth contact surface finish and a high degree of purity. No residue substances such as benzoic acid, peroxides, ketones are produced during manufacturing, which can be transferred from the gasket to critical hygienic products.
All the above materials are free from animal derived ingredients.
The table below provides an overview of the typical properties for the five PPE elastomer materials listed above.
HyClamp® Elastomer Materials
Expertise
Precision Polymer Engineering Ltd. (PPE) is a leading provider of high-performance sealing solutions to a wide range of industries around the world. By combining innovative material science with engineering expertise, PPE delivers exceptional solutions that are proven to extend seal life; thereby reducing downtime, extending meantime between planned maintenance and improving production efficiency.
Tri-clamp® and Tri-clover® are registered trademarks of Alfa Laval Inc.