New Creeper Enables Comfortable Rocket Inspection
Eric Olson | March 12, 2018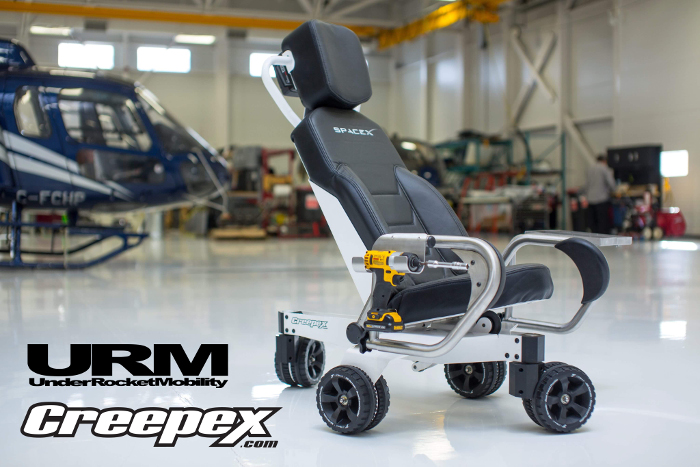 URM's maneuverability and ease of adjustment make it a good fit for a wide range of jobs in addition to rocket inspection, including work on aircraft, trains, machinery, and tunnel boring machines. Source: CreepexA specially designed mechanic creeper will soon allow SpaceX engineers to work on and inspect the bellies of Falcon 9 rockets in comfort. Code-named URM (Under Rocket Mobility), the device was developed by Canadian company Creepex in response to a special request by SpaceX.
A SpaceX engineer had tested another Creepex product, the BodyGuard creeper, a patented rolling apparatus on which mechanics can lay in a reclined position to perform maintenance on the undercarriages of vehicles. The device had been displayed at the SEMA show in Las Vegas and presented by TV host Jay Leno on Jay Leno's Garage.
URM's padded seat has four support points. Attached to each support are dual wheels. The wheels at the head and feet of the creeper swivel, while those underneath each arm are fixed in place. The eight wheels in total create a stable platform with a tight turning radius.
The seatback's angle can be adjusted by a piston to create various inclinations from nearly vertical to horizontal to the ground to support engineers in optimal positions for inspection of the curved cylindrical surfaces of rockets. The creeper also features a bracket affixed to one arm of the seat to cradle a portable drill, while a tray attached to the other arm provides easy access to tools.