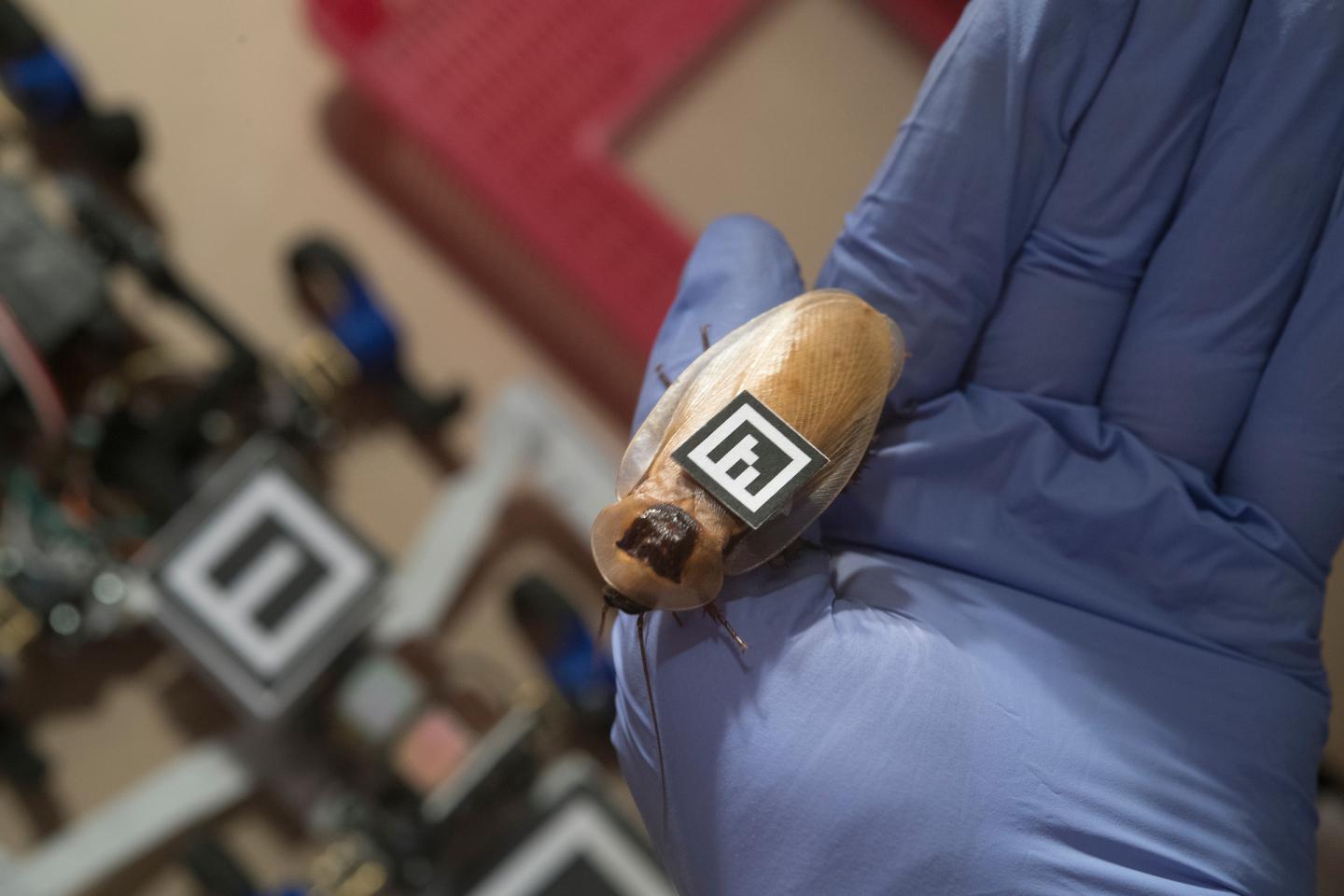 The roaches used in the study are a Central American species with bodies about 2 inches long. (Source: Will Kirk/JHU)
Researchers from Johns Hopkins University are training cockroaches to share how they move through dangerous territory with robotic vehicles. The researchers hope that cockroaches' knowledge can help robots that are sent into disaster areas or unexplored areas that are dangerous for humans.
In the lab researchers are training cockroaches to go through mazes with two kinds of obstacles, large bumps and large gaps. The goal was to study the way cockroaches move their heads, torsos and legs to find the right way to navigate around these obstacles. The researchers used high-speed cameras to capture their body movements and later slow down the cameras to learn about the movement tactics the bugs use.
"Where they live [rainforests], you have all sorts of stuff around you, like dense vegetation or fallen leaves or branches or roots," Chen Li, one of the directors of the Terradynamics Lab said. "Wherever they go, they run into these obstacles, "We're trying to understand the principles of how they go through such a complex terrain, and we hope to then transfer those principles to advanced robots."
The team has already started to take advantage of some of the bug's movements. They created a multi-legged robot that walks the same way a cockroach walks. Initially there were some problems with the robot's movement, so the researchers paid close attention to the videos of the insects running and discovered they had to add a tail to the robot. By adding a tail, the robot was able to recreate the same body positions and successfully run and walk like real cockroaches as they are navigating the terrain. This increased the gap size that the robot was able to cross by 50% and the bump size by 75%.
"We are just beginning to understand how these critters move through a cluttered 3-D terrain where you have obstacles that are larger than or comparable to the animal or robot's size," Li said.
The researchers are now focusing on if their research could apply to scattered types of terrain, like rubble.
"I knew I would be working with these animals, and I was a little scared at first because they just run so fast, and they were so creepy," Li recalls. "But as soon as I started working in the lab, I learned that it's actually very easy to work with them, and they're actually a very nice, fantastic model organism. Not just because they're so robust and move so fast, but also because they're very easy to handle and motivate to run and very easy to care for. So, they're currently one of the main species in our lab, serving as a model system."
The paper on this research was published in the journal Bioinspiration & Biomimetics.