AI-guided laser beams aimed at cockroaches
Marie Donlon | October 04, 2022
An artificial intelligence (AI)-based laser device designed for automatically shooting and killing cockroaches has been developed by a team of researchers from Heriot-Watt University, University Paul Sabatier and the University of Sussex.
To accomplish this, the researchers modified a laser beam device originally designed to kill mosquitoes. According to its developers, the device features a Jetson Nano, which is an electronic device that runs machine-learning software; two cameras; a galvanometer, which is an instrument for detecting and measuring small electric currents; and a laser. To alter the direction of the laser, the galvanometer receives data from the AI unit.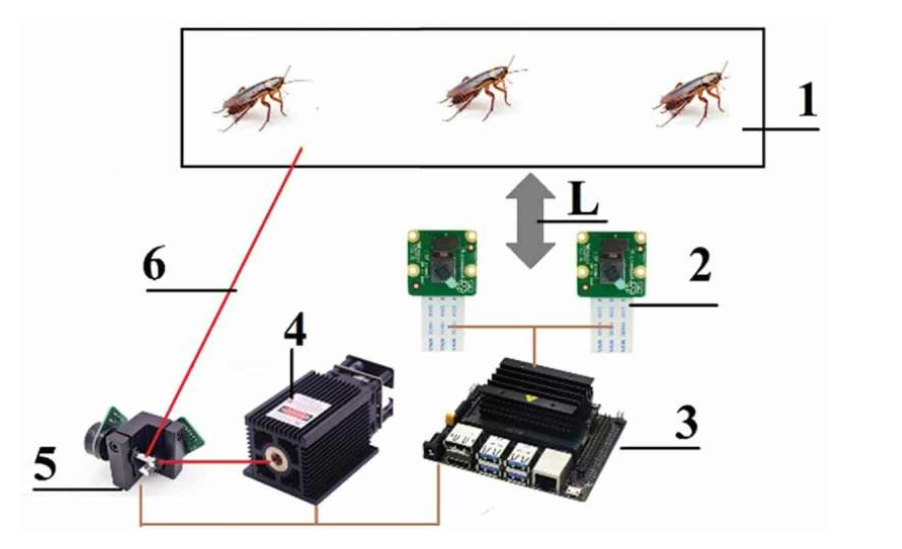 Summary diagram of the laser setup: 1—transparent box containing cockroaches, 2—Pi cameras, 3—Jetson nano, 4—laser, 5—galvanometer, 6—laser beam, L—distance between laser device and target. Source: Oriental Insects (2022). DOI: 10.1080/00305316.2022.2121777
The device was tested in the lab where it accurately identified and shot cockroaches. Further, the researchers determined that the laser could be fine tuned so that it could merely stun the cockroaches instead of killing them with the laser beam outright.
The system is detailed in the article, Selective neutralisation and deterring of cockroaches with laser automated by machine vision, which appears in the journal Oriental Insects.