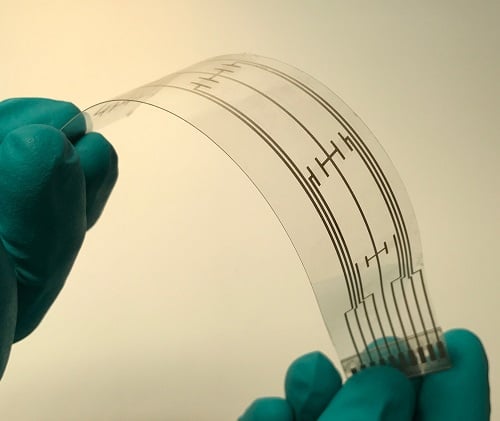 A printed flexible sensor manufactured by Brewer Science. Source: Brewer ScienceMonterey, California — Brewer Science, Inc. is a company that is mostly known for its manufacturing materials and processes for advanced lithography, thin wafer handling, 3D integration, and chemical and mechanical device protection.
But recently the company began expanding its role in the electronics market to include printed electronics, mainly flexible, moisture, gas and water sensors as well as thermistors. Now the company is expanding its role in this area with a new program, called Sensor System Solutions, which provides full consulting services to support customer designs through integration.
Brewer Science introduced the new program here at the Flexible Electronics Conference (FLEX 2018), where the company says it has been working over the past year in (IIoT) space. While much of the work has been in the industrial space including gas sensors for monitoring differentdeveloping sensors for companies in both the internet of things (IoT) and industrial internet of things chemicals or water purification monitoring, Brewer Science is looking to move in the direction of wearables both for medical and consumer use.
"Flexibility is a key to the future of printed sensors, and wearables is the sweet spot for electronics and will ultimately be a bright spot for the future of printed electronics as a whole," Dominic Miranda, printed electronics business development manager at Brewer Science, tells Engineering360. "The ability to incorporate sensors into textiles or clothing or grafted to the skin, that is the future. Our flex array is something that would work well for wearables such as wearable gloves where there are flexible sensor at each knuckle."
The Sensor System Solutions program is designed to support customers through the development process including designing customized sensors, integrating them with other electronic components for signal conditioning and processing, developing the associated firmware and software, and then connecting the process with the communication devices for transmission to a network.
On complex sensor devices, which Miranda says Brewer Science is moving more toward, the company has developed algorithms that translate the sensor into something useable for the customer solution. Artificial intelligence development and chain learning development is another thing the company is bringing to the table. While it has an initial footprint in these areas, the company is working with third parties to bring this aspect to the design. This is also applied to communication services, where Brewer Science works with a third party to bring in communication technology to designs depending on the needs of the customer.
"We need to have an understanding of these capabilities on a small scale, when it starts to roll out to larger services or when we look forward to the future these are capabilities we also want to have these developed internally," Miranda said.
For more than a year, Brewer Electronics has been working with companies on various sensors that can be plugged into devices. One of the examples it has worked with include a water sensor that allow a company to detect water quality over a large area spanning miles on a single system. The company has also begun work in the industrial internet of things (IIoT) space with work on a pump and valve system with a monitor that is unobtrusive and don't require companies to shut down a pump for a long period of time. The sensor tracks how the pump is performing without opening up the line. The final project is for a gas sensor that attaches to a drone for air quality which monitors carbon dioxide, carbon monoxide and methane gases. The drone flies around a facility or maps the general area where gas is located.