'Tiny Trash' Initiative Making Big Difference in Recycling
Marie Donlon | January 17, 2018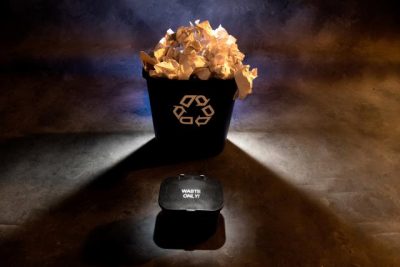 A University of Iowa initiative called Tiny Trash encourages recycling and reduces waste on campus. More than 2,000 faculty and staff in 18 buildings have joined the effort, which ties into the UI's goal to divert 60 percent of campus-generated waste to recycling by the year 2020. Source: Tim SchoonAttempting to achieve the 2008 goal of diverting 60 percent of campus-generated waste to recycling by 2020, more than 2,000 faculty and staff members are participating in the voluntary "Tiny Trash" program on the University of Iowa (UI) campus.
"The UI is among universities and businesses across the country using Tiny Trash as a strategy to increase recycling and reduce landfill waste," said Sara Maples, interim director in the Office of Sustainability. "The program engages faculty, staff, and students who are regularly on campus and plays a significant role in the UI's waste-diversion goal."
The waste reduction effort involves replacing participants' trash bins with blue recycling containers with a smaller trash receptacle attached to them.
"If you have a recycling bin this big, and Tiny Trash is much smaller, then when your recycling bin is full, you'll empty it. By making the recycling container bigger and the trash smaller, it changes your behavior," said Beth MacKenzie, recycling coordinator in the Office of Sustainability.
Using the UI Center for Disabilities and Development as an example of the success of the initiative, Mackenzie explained that in the months before adopting the program in May 2017, the center's average monthly recycling rate was 26 percent. That number has increased to 46 percent since adopting the initiative.
The university hopes to expand the effort, which was first launched by the UI office of Sustainability in 2013, campus-wide.