Four Aerospace Developments to Look for in 2018
Eric Olson | January 12, 2018
The year ahead will be filled with a number of exciting aerospace developments. From Virgin Orbit's new small satellite launching rocket to a stratosphere-breaching solar-powered aircraft, 2018 has a busy launch schedule filled with flight tests and product rollouts.
LauncherOne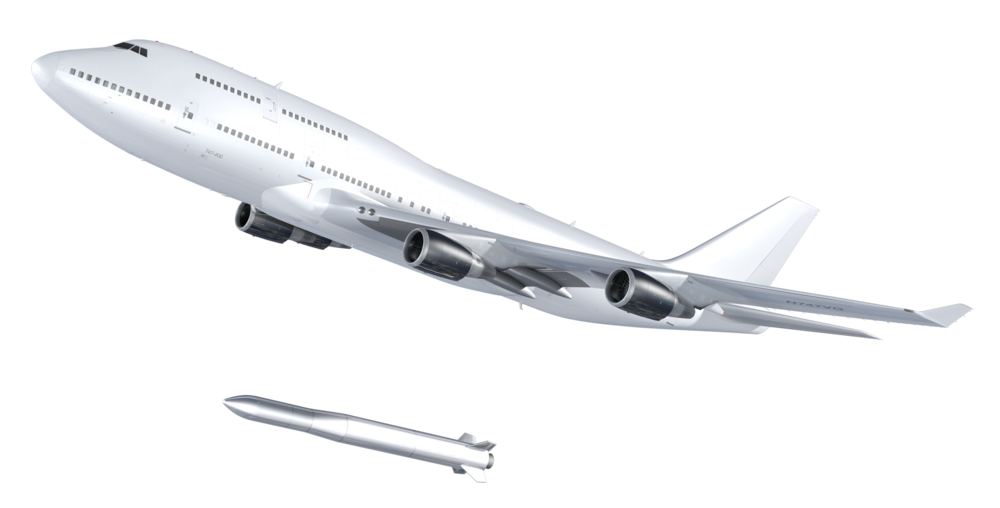 The LauncherOne rocket will be released from its 747-400 carrier aircraft at an altitude of 35,000 ft (10,700 m). Source: Virgin Orbit
Virgin Orbit, a spinoff of Virgin Galactic and part of the Virgin Group, will test its rocket-launching plane and LauncherOne rocket in 2018. Designed to carry small satellites into sun-synchronous orbit, LauncherOne will be capable of lifting a 660 lb (300 kg) payload to an altitude of 310 miles (500 km).
LauncherOne is an air launch rocket designed to be carried into the sky by a 747-400 airplane. Mounted to a pylon between the left inboard jet engine and the fuselage, the rocket will be carried to an altitude of 35,000 feet (10,700 meters) before it is released.
LauncherOne will then fire its stage one NewtonThree engine, burning LOX/RP-1 fuel and generating 73,500 pounds (327,000 newtons) of thrust for around three minutes before stage separation.
The second stage NewtonFour engine, also running on LOX/RP-1 and producing 5,000 pounds (22,000 newtons) of force, will then fire in multiple burns totaling around six minutes to boost the payload into its final orbit.
LauncherOne will propel small satellites from a variety of customers into orbit. Communications company OneWeb, NASA, and the Department of Defense have all signed launch deals with Virgin Orbit.
"The Virgin brand is about making life on Earth better," said Virgin Orbit President Dan Hart. "We are going to fulfill that purpose by accessing low Earth orbit (LEO) to connect billions of people and enabling valuable applications of data from space through Virgin Orbit's flexible, affordable and reliable launch service."
The first flight of LauncherOne is expected before July.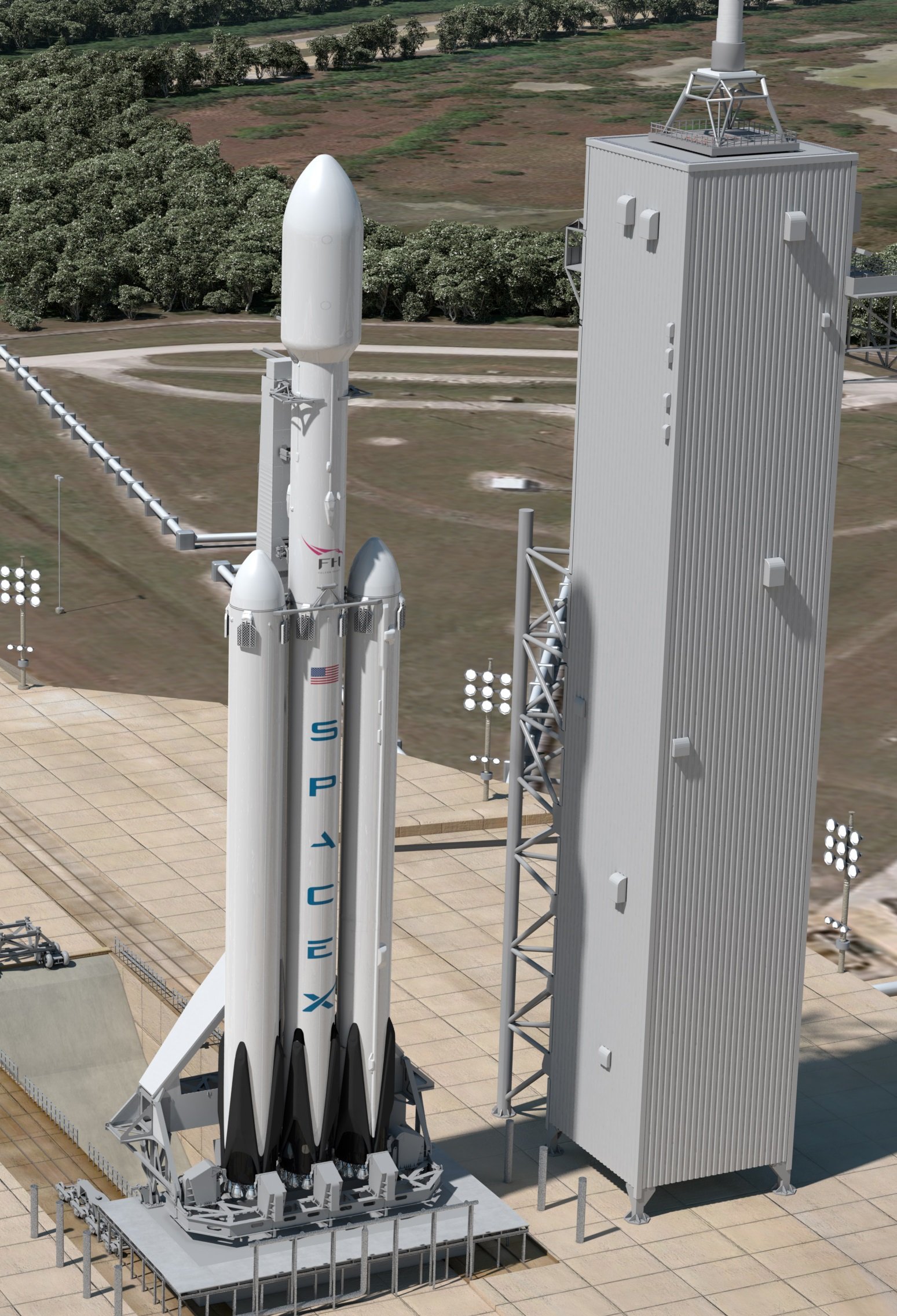 Artist's concept of Falcon Heavy on launch pad 39A at Kennedy Space Center. Source: SpaceX
Falcon Heavy
The first launch of SpaceX's Falcon Heavy rocket will take place in early 2018 at launch pad 39A at Kennedy Space Center. Falcon Heavy is a heavy-lift rocket designed to boost large payloads into orbit. Comprised of three Falcon 9 cores connected together with two side boosters attached to a central core, the rocket will be capable of lifting a mass of more than 119,000 pounds (54 metric tons) into orbit.
The first stage of the rocket has a total of 27 Merlin 1D engines evenly distributed between the three cores. The engines will be fired nearly simultaneously, lighting in a staggered start sequence two at a time until all are ignited. This approach avoids the thrust torque that could damage the octawebs that house the engines if all are lit at the same moment.
Launching in January 2018 or later, the Falcon Heavy will become the most powerful operational rocket in the world. Weighing more than 3.1 million pounds (140,000 kilonewtons) fully fueled and standing more than 229 feet (70 meters) tall, the rocket will generate more than 5.1 million pounds (230,000 kilonewtons) of thrust at sea level.
After launch, a recovery of all three cores will be attempted so that they can be refurbished and reused. The side boosters will detach from the center core following launch and attempt to land vertically at Cape Canaveral Air Force Station. After ascending higher and separating from the second stage, the main core will attempt a vertical landing on an autonomous drone ship in the Atlantic Ocean. One Merlin engine will then power the second stage to its final orbit.
SolarStratos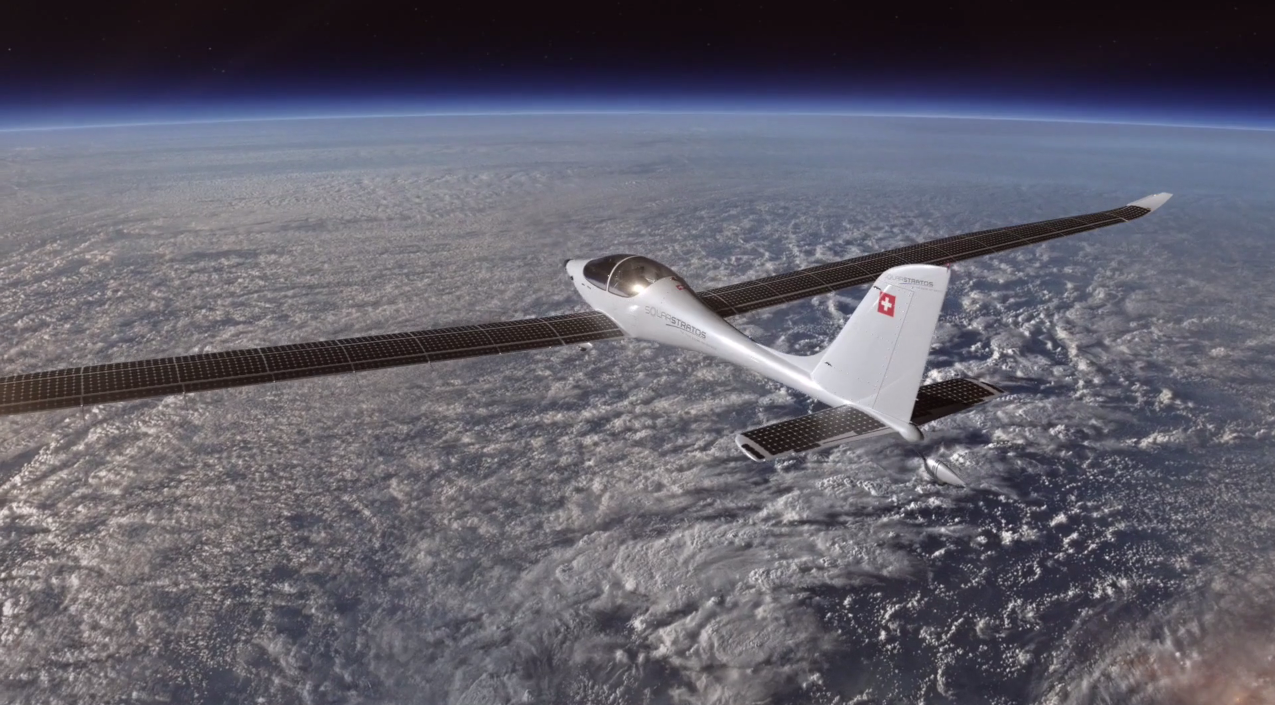 SolarStratos could become the first solar-powered aircraft to fly into the stratosphere. Source: SolarStratos
SolarStratos, a solar-powered aircraft, will undertake a mission in 2018 to become the first vehicle to ascend into the stratosphere using energy harvested from the sun. Built by PC-Aero, the two-seat, 990 lb (450 kg), 28 ft (8.5 m) long vehicle will ascend to an altitude of 82,000 ft (25,000 m). Its 32kW electric engine running at 90 percent efficiency will drive a 7.2 ft (2.2 m) 4-bladed propeller at up to 2,200 rpm. A 20 kWh lithium-ion battery and 237 ft2 (22 m2) of solar cells covering an 81.7 ft (24.9 m) wingspan will provide power for up to 24 hours of flight.
The first flight will last five hours — two hours to ascend to maximum altitude, 15 minutes cruising through the stratosphere, and three hours to descend back to the ground. To minimize its weight, the plane will be unpressurized. As a result, the pilot will need to wear a pressurized suit to withstand low atmospheric pressures of only around five percent of surface pressure and freezing temperatures down to -94 degrees F (-70 degrees C).
"Electric and solar vehicles are among the major challenges of the 21st century," said Raphael Domjan, SolarStratos project initiator and pilot. "Our plane which can fly at 25,000 meters, opens a window to electric and solar-powered high-altitude aviation — something that has never before been attempted."
The purpose of the project is to demonstrate the potential of renewable energy.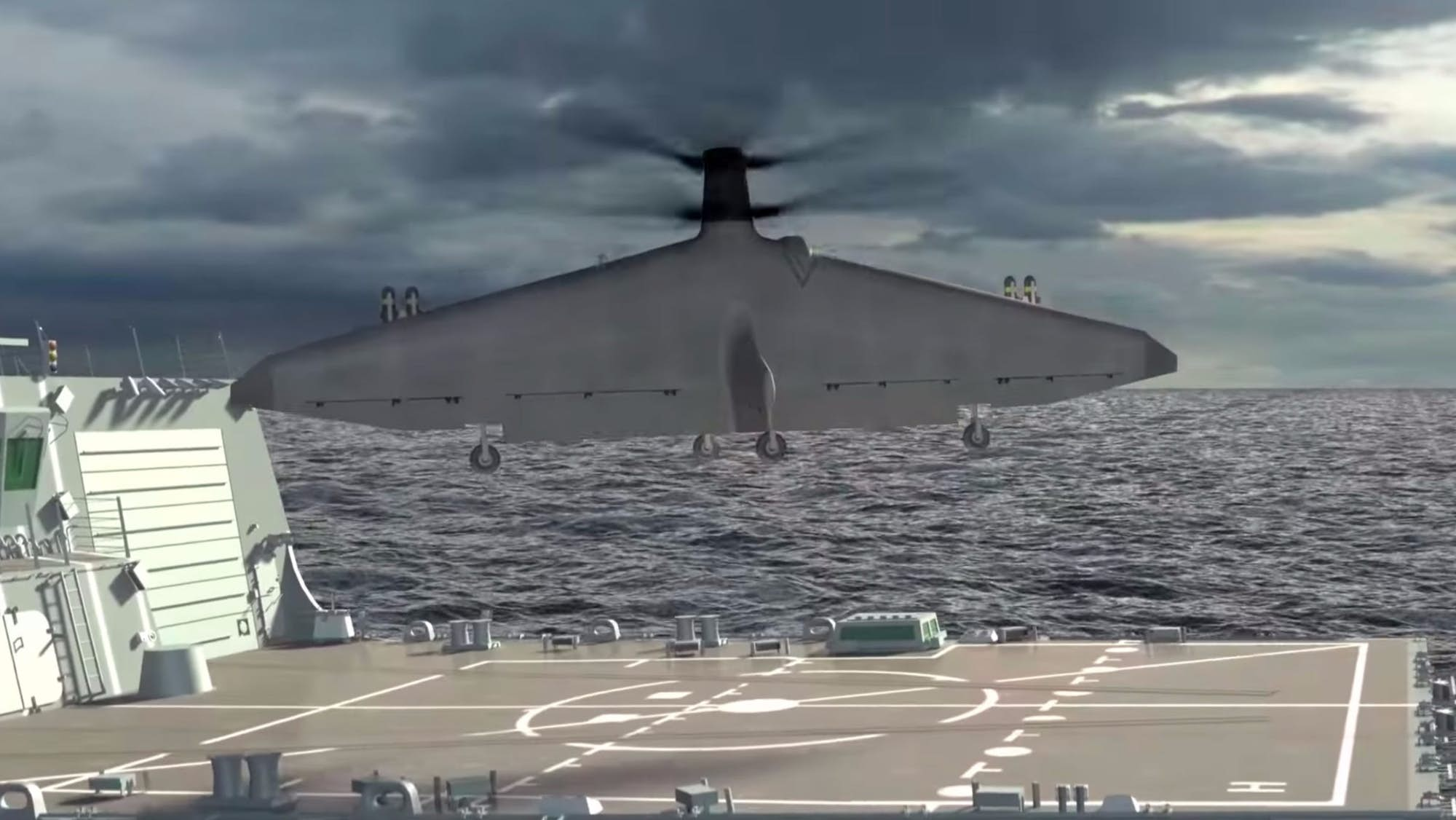 Concept graphics of the Tern UAS lifting off vertically from the flight deck of a ship at sea. Source: Northrop Grumman/YouTube
Tern
Tern is a unique vertically launched unmanned air system (UAS) being developed as part of a joint program between DARPA and the U.S. Navy's Office of Naval Research (ONR). A full-scale technology demonstration of Tern is being built by a team led by Northrop Grumman.
Shaped like a flying wing, the medium-altitude, long endurance UAS takes off vertically from a tail-sitting position. Propulsion is provided by two propellers mounted on the nose spinning in opposite directions. After it attains some altitude, Tern transitions to a flying wing orientation for horizontal flight. To land, the aircraft switches back to a vertical orientation before touching down like a helicopter. Tern's unique flight capabilities allow it to take off and land on helicopter decks. This allows the UAS to operate from ships with limited deck space such as destroyers and frigates without requiring a runway.
"We're making substantial progress toward our scheduled flight tests, with much of the hardware already fabricated and software development and integration in full swing," said Brad Tousley, director of DARPA's Tactical Technology Office. "As we keep pressing into uncharted territory — no one has flown a large unmanned tailsitter before — we remain excited about the future capabilities a successful Tern demonstration could enable: organic, persistent, long-range reconnaissance, targeting and strike support from most Navy ships."
Ground-based testing is scheduled to begin in early 2018, with flight tests at sea starting in late 2018.