Electron Rocket Completes Second Test Flight Successfully
Eric Olson | January 23, 2018
Rocket Lab's Electron rocket has successfully completed its second test flight. Lifting off at 14:43 NZDT from the company's Launch Complex 1 on the Māhia Peninsula in New Zealand, the orbital launch vehicle – named Still Testing – completed first and second stage burns before deploying customer payloads consisting of three small satellites eight minutes and 31 seconds into the flight.
Still Testing was carrying a Dove Pioneer Earth-imaging satellite for launch customer Planet, as well as two Lemur-2 satellites for weather and ship tracking company Spire.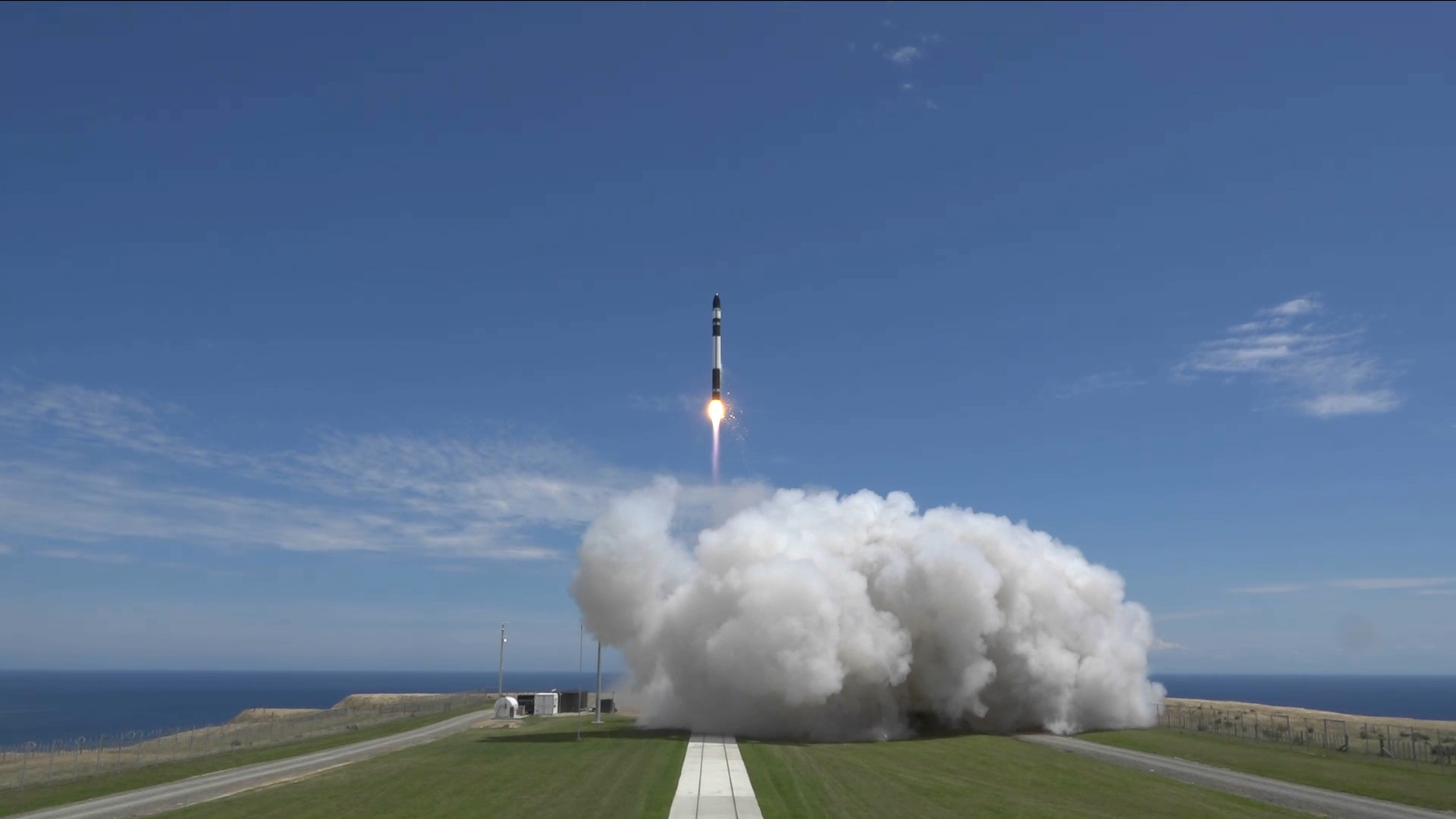 Electron lifted off from Rocket Lab's Launch Complex 1 on the Mahia Peninsula in New Zealand. Source: Rocket Lab
"Today marks the beginning of a new era in commercial access to space. We're thrilled to reach this milestone so quickly after our first test launch," said Rocket Lab CEO and founder Peter Beck in a statement. "Our incredibly dedicated and talented team have worked tirelessly to develop, build and launch Electron. I'm immensely proud of what they have achieved today."
Designed to boost a nominal payload of 150 kg (330 lb) to a 500 km (310 miles) sun-synchronous orbit, Electron can also be adapted to meet custom mission requirements including a range of sun-synchronous altitudes in circular or elliptical orbits at inclinations between 39 and 98 degrees.
With a maximum payload of 225 kg (496 lb), the rocket is aimed at serving the small satellite launch market, and traces a smaller outline against the sky than some other launch vehicles. Electron's two stages stand 17 m (55 ft) tall, compared to the 70 m (230 ft) Falcon 9 from SpaceX, a booster designed to carry up to 22,800 kg (50,265 lb) to low Earth orbit.
Electron's price point is also much smaller than Falcon 9's. Targeting a launch cost as low as $4.9 million (compared to SpaceX's $62 million), Rocket Lab hopes to make space more accessible to small satellite operators who previously had to hitch a ride on the launches of bigger payloads.
"Reaching orbit on a second test flight is significant on its own, but successfully deploying customer payloads so early in a new rocket program is almost unprecedented," said Beck. "Rocket Lab was founded on the principle of opening access to space to better understand our planet and improve life on it. Today we took a significant step towards that."
Rocket Lab is building five Electron rockets in preparation for commercial launches. The company has a number of customers already signed, including NASA and Moon Express, a privately funded commercial space company competing to win the $20 million Google Lunar XPRIZE by being the first private team to land a spacecraft on the moon.
Electron's next launch is expected to take place early this year. When fully operational, Rocket Lab expects to carry out more than 50 launches a year. It has regulatory approval to launch up to 120 times a year, more than any other commercial or government launch provider in history.
The company will face competition from other small space launch systems. Virgin Galactic will test its rocket-launching plane and LauncherOne rocket in 2018. Designed to carry small satellites into sun-synchronous orbit, LauncherOne will be capable of lifting a 300 kg (660 lb) payload to an altitude of 500 km (310 miles). Other aerospace firms developing small launch vehicles include Interorbital Systems, Firefly Aerospace and Vector Space Systems.