Large Metal 3D Printing System Sales Are Up
Eric Olson | January 04, 2018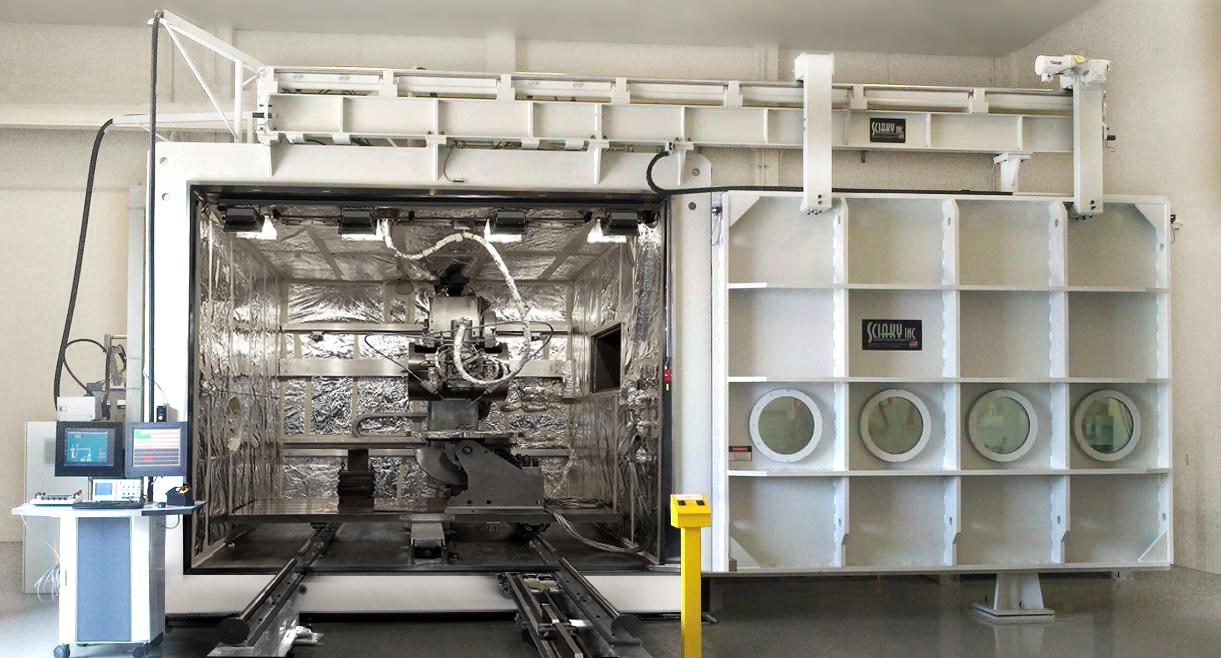 EBAM 150 Electron Beam Additive Manufacturing system with open door providing a view of the work chamber. Source: Sciaky Inc.
Sales of large metal additive manufacturing machines for printing large-scale metal parts are picking up. Four state-of-the-art Electron Beam Additive Manufacturing (EBAM®) systems from Sciaky Inc., a subsidiary of Phillips Service Industries, Inc. (PSI), were sold in the month of December, a record. The machines will be used to 3D print titanium structures for aerospace applications, as well as to produce large parts for ground-based military vehicles and warships.
Three of the four machines will be the popular EBAM 110 model and the fourth will be an EBAM 150. With large work envelopes, customers will be able to 3D print the industry's largest metal parts in-house. The EBAM 110 features a work envelope of 70 in. (1778 mm) wide by 47 in. (1194 mm) deep by 63 in. (1600 mm) high, while the EBAM 150 has a nominal part envelope of 146 in. (3708 mm) wide by 62 in. (1575 mm) deep x 62 in. (1575 mm) high. All four systems will be delivered around mid-2018.
"Sciaky is proud to deliver more best-in-class EBAM metal 3D printing systems to the marketplace, which will be leveraged in a wide range of land, sea, air and space applications," said Scott Phillips, president and CEO of Sciaky Inc. "Now, more than ever, manufacturers are looking for ways to reduce time and cost associated with producing large, high-value parts, and Sciaky EBAM systems have a proven track record of helping manufacturers achieve these business-critical goals."
EBAM is the fastest, most cost-effective process for 3D printing large metal parts, with gross deposition rates ranging from seven to 20 lb. (3.18 to 9.07 kg) of metal per hour. The process begins by reading a 3D CAD model, after which an electron beam (EB) gun deposits layers of metal from wire feedstock. Additional layers are set down until the full shape of the part is achieved. The part then undergoes finish machining to remove imperfections in its surface.
Monitoring and controlling the process in real-time is IRISS® – Sciaky's Interlayer Real-time Imaging and Sensing System. IRISS senses and adjusts metal deposition to ensure precise quality control, delivering consistent part geometry, mechanical properties, microstructure and metal chemistry.
EBAM has a wide range of compatible materials, including weldable metals available in wire feedstock such as titanium and titanium alloys, Inconel 718 and 625, tantalum, tungsten, niobium, 300-series stainless steels, 2319 and 4043 aluminum, 4340 steel, zircalloy, 70-30 copper nickel, and 70-30 nickel copper. Sciaky's EBAM systems can produce parts starting around 8 in.3 (203 mm3) all the way up to 19 ft. x 4 ft. x 4 ft. (5.79 m x 1.22 m x 1.22 m) – or round parts up to 8 ft. (2.44 m) in diameter.