The holidays have more or less passed, and you may find yourself wondering what to do with those Amazon gift cards you received. Especially for those in the northern part of the U.S., the frigid and snowy weather makes this a perfect time to light a roaring fire and order a streaming movie. For the engineering mind, these films had better have a solid scientific grounding, yet be interesting enough for carefree enjoyment.
Here's a list of 10 movies, in no particular order, for the bored or snowbound engineer.
Jurassic Park, The Andromeda Strain, or basically anything based on Michael Crichton
Movies based on Michael Crichton's books usually involve some emerging scientific issue, but are also thrilling and enjoyable. Crichton earned an MD from Harvard in 1969 but never practiced medicine, so his screenplays often have a hard scientific basis that's more or less accurate. Films written by Crichton touch on issues like genomics (Jurassic Park, Sphere, Congo) and the pandemic outbreak of an extraterristrial bacteria (The Andromeda Strain).
WarGames
Released in 1983, WarGames tells the story of a young computer enthusiast who accidentally hacks a military supercomputer training to predict the outcome of full-scale nuclear war. As a retrospective, the film is a fascinating look at early machine learning, a field still in its infancy in the '80s. WarGames is a far-fetched yet entertaining look at technology against the political backdrop of the Cold War, with a brilliant ending.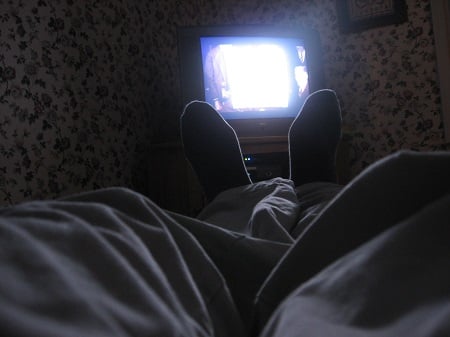 Source: Qfamily / CC BY 2.0Children of Men
One of the best dystopian thrillers of all time, Children of Men is set in 2027 Britain following societal collapse after two decades of complete human infertility. Protagonist Theo Faron finds the first pregnant woman in 18 years, and must ferry her to safety with the help of several others who freely give their lives for the future of humanity. A terrifying vision of the future that also seems surprisingly plausible.
Flash of Genius
Not a mind-blowing blockbuster but still a must-watch for engineers, Flash of Genius is the true story of Robert Kearns, an engineer who invented the intermittent windshield wiper. Kearns wins long patent-infringement cases against Ford and Chrysler due to their freely using his design, costing him his marriage and nearly breaking his spirit in the process. Flash of Genius is a dramatic David-and-Goliath style look at an engineer sticking to his principles in the face of massive opposition.
Apollo 13
Probably the most popular and critically acclaimed on the list, Apollo 13 is the ultimate story of engineers pulling together and innovating under extreme adversity. Enough said!
Contact
Based on the hard sci-fi novel by Carl Sagan, Contact describes what might happen if scientists on Earth received an extraterrestrial signal. Chock full of accurate details about radio astronomy and logical puzzles, the film is dramatic and thrilling while also exploring the intersection of science and faith.
Pi
Directed by Darren Aronofsky, known for his unsettling, sometimes bizarre films, Pi tells the story of a paranoid, socially crippled number theorist obsessed with finding numerical patterns in nature and the stock market. This art film is not for the faint of heart — at one point the narrator Max turns a power drill on his own skull to relieve a severe headache — but it's an intriguing look at the fine line between genius and insanity.
Good Will Hunting
Good Will Hunting is much more drama than science, but engineers might like it due to its portrayal of Will Hunting as a lonely savant. Working as a janitor at MIT, Will anonymously solves high-level math problems he finds written on chalkboards, and struggles over coming to terms with his massive potential and finding his unique destiny.
The Imitation Game
This critically acclaimed movie focuses on the work of Alan Turing and other Bletchley Park cryptographers attempting to break the Nazi Enigma machine during World War II. While some critics (and a few members of Turing's family) felt the film overdramatized Turing and some of his relationships, its illuminating look into Turing's life and personality make it a must-watch for engineers.
Arrival
The newest movie on the list, Arrival is the story of a linguist trying to communicate with extraterrestrials following their surprise landing on Earth. This one moves slowly at times and is light on hard sci-fi content, but it provides a mind-bending look at the different dimensions of communication.
That's all 10 — now stream away!