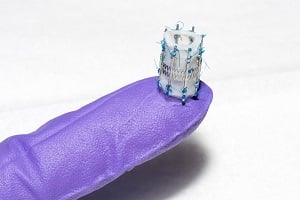 A pediatric heart valve that adapts to a child's growth, the first of its kind, is undergoing tests. Source: Draper Lab
Thousands of children are born each year in the U.S. alone with congenital heart valve defects but there are no artificial cardiac valves designed specifically for babies. Heart valves designed for adults often require significant modifications for children. Multiple heart surgeries must be performed as the child then outgrows successive valve prosthetics.
A tiny heart valve that expands and adapts to the patient's growth has now been designed for pediatric patients. Two pediatric valve designs engineered by Draper Lab and Boston Children's Hospital are geared for infants and children up to age six. These patients require valve diameters less than 15 millimeters, as opposed to 18 to 30 millimeters for adults.
The valve can expand to more than twice its original diameter, eliminating the need for numerous invasive replacement procedures. A first-generation prototype has been fabricated and tested, and the researchers hope to complete ex vivo testing and design revision before moving into a growing animal model for proof-of-concept of function.