Parkinson's Patients Improve Stability Through Robotics
Tony Pallone | December 26, 2017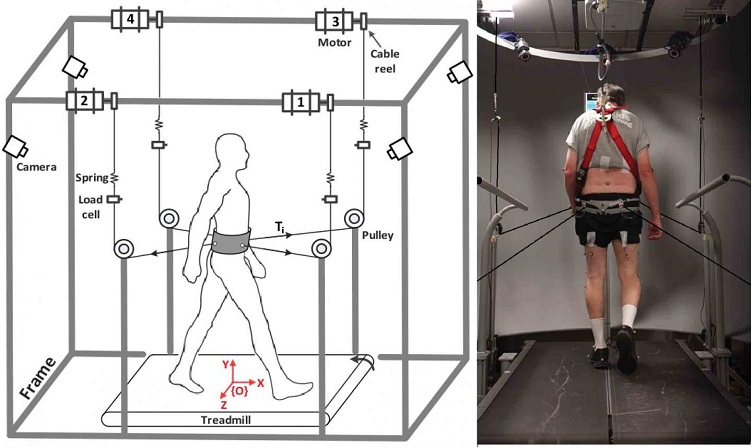 Tethered Pelvic Assist Device schematic (left) alongside a subject using the TPAD training method to improve stability. Image credit: Sunil Agrawal/Columbia Engineering.
The American Institute of Neurology estimates there are one million people affected with the neurodegenerative disorder known as Parkinson's disease (PD) -- some 50,000 people in the U.S. are diagnosed each year. Given that up to 70 percent of advanced PD patients fall at least once a year, and two-thirds suffer recurring falls, falls and related injuries are a major issue for people with Parkinson's. These fall rates, by the way, are twice as high as those of adults of comparable age -- the average age of onset for Parkinson's is 60.
Enter a multi-disciplinary team of researchers at Columbia University, which used a robotic system to study the impact of Parkinson's on patients' ability to react and adapt their walking to unexpected balance disturbances. Invented in the Robotics and Rehabilitation (ROAR) Laboratory run by Prof. Sunil Agrawal, the Tethered Pelvic Assist Device (TPAD) is a wearable, lightweight cable-driven robot that can be programmed to provide directional pelvic forces as a subject walks on a treadmill. The device has been used previously to improve posture and walking in children with cerebral palsy.
According to Agrawal, previous studies on PD subjects have focused on patient responses during standing, but not walking. Perhaps surprisingly, the researchers found that PD does not affect the ability to modify responses to changing amplitudes or directions. Both Parkinson's patients and a control group showed short-term improvement in the stability of their gait after a single training session with the device.
Current training methods, such as conventional exercises at the gym do not address the specific neuromuscular skills required for fall prevention – which are basically a reactive ability to recover from a balance disturbance.
The researchers are now planning future studies to examine whether a multi-session training program will demonstrate more lasting effects on walking balance, and reduce the number of falls in the long term.