For some, "industrial engineering" evokes images of engineers in hardhats and coveralls, digging into a machine or working on production processes in factories. While the term was originally used to describe manufacturing technologies, its definition has grown to include the methodical or analytical optimization of any process, organization or system. It's probably no surprise, then, that large and complex tech companies benefit from industrial engineering in a big way.
Industrial engineering encompasses a wide range of practices and methods, many of which are useful to tech giants who may have only a small stake in actual manufacturing. Just a few are discussed below.
Human Factors Engineering
The vast majority of knowledge workers spend their working days at a desk in front of at least one screen. This means that ergonomics and human factors engineering — the practice of designing products, systems and processes for ideal interaction between them and the people who use them — is more important than ever.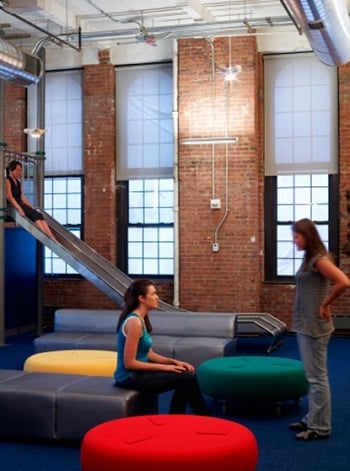 A two-story lounge at Google's New York City office, complete with playground slide. Source: Eric Laigel / GoogleGoogle's offices around the world consistently set a high benchmark for human-centered workplaces. Their New York City office features lounge-like workspaces, an apartment-themed conference room for those wanting to "work from home," modular desks that employees can customize, libraries and even playground slides to get from one floor to another.
While Google's examples are extreme, most large tech companies are accounting for human factors in other ways. Open floor plans devoid of cubicles are becoming common, for example. Other companies provide laid-back, shared workspaces for project collaboration, stand-up or convertible desks to improve employee health and themed floor plans. According to human factors research, these changes can result in a happier and healthier workforce, which is good for both employees and employers.
Analytics
In today's big-data-driven culture, companies are learning to prefer decisions based on hard data rather than the opinions or experience of C-suite executives. It's probably no surprise then that many large tech companies have growing data science departments.
Most consumers know that Uber is a major disruptive force in transportation, and it's worth examining how the company uses data to drive efficient operation as well as its own market. In a traditional taxi model, a rider hails a taxi that happens to be driving by. The rider pays their fare and gets out. This is an example of an open-loop system — a transaction occurred with no feedback. Besides the driver and rider, no one knows the ride occurred.
By contrast, Uber uses data science to create a closed-loop process. In short, it takes an input action (getting a ride), measures that action, tracks its output and then sends all of this data back into the system to inform future actions and planning. Uber's data work allows it to track the exact supply and demand in a given area in real-time, optimize pricing to match that demand and ultimately make the entire transportation process more efficient.
Uber accomplishes this by hiring a unique blend of centralized and decentralized operations staff. The company employs dozens of data scientists at its San Francisco headquarters, but then hires other staff to run its operations teams in local markets. These local "hustlers" get access to Uber's central data repository but they are pushed to work autonomously in a hub-and-spoke model. This not only results in efficient operation but also creative, tailored approaches to customer acquisition.
Uber's controversial dynamic pricing — in which ride pricing fluctuates due to estimated traffic, riding time and distance and the number of Uber riders at that moment — is also data-driven. Dynamic pricing essentially hikes ride prices during demand imbalances, and while it may not be popular with riders, it results in the following streamlining measures:
More earnings are passed through to drivers
Drivers are incentivized to work during these periods, balancing supply and demand
The entire Uber system is made more efficient, when it needs to be
Simulation Modeling and Capacity Planning
Simulation modeling and capacity planning are related industrial engineering disciplines, both of which are crucial to giant companies that fulfill orders. In short, simulation modeling involves creating a digital prototype of an object or process and testing it against real-world conditions, while capacity planning is the use of analytics to determine the production capacity needed to meet changing demand.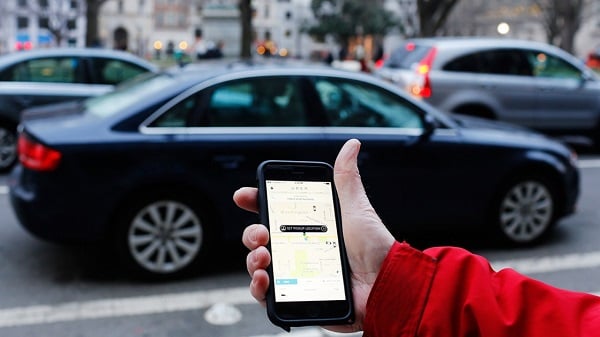 A rider uses Uber's app to hail a car. Source: Mark Warner / CC BY 2.0Amazon's supply chain is a prime use case for capacity planning. A 2013 study found that Amazon sold 306 items per second and shipped around 3.3 million packages per day. As of 2017, the company has 140 fulfillment centers in the U.S., 35 of which are under construction or planned.
A 2012 talk by Mike Roth, vice president of North American operations for Amazon, explained how the company uses capacity planning to fulfill millions of orders as efficiently as possible. For starters, the company advocates rapid-build cycles for all of their warehouses to keep up with ever-increasing demand. Amazon uses automation sparingly, since highly automated warehouses would take much longer to complete.
Amazon also carefully forecasts its sales and operating expenses and uses population density maps overlaid with their fulfillment centers to project demand growth. For maximum efficiency, Amazon does not build their distribution centers to deal with peak demand, so as not to waste resources during slower times of the year. During the holiday season — when demand is more than three times greater than other points of the year — the company works with third-party logistics suppliers to fulfill orders, instead of relying on their own capacity.
Operations Research and Management
Aside from manufacturing, operations research is one of the oldest aspects related to industrial engineering. With the rise of massive tech companies employing tens of thousands of people, operations research and management is still very relevant today.
Apple Inc. is a prime example. As of 2017, the company employs 123,000 people worldwide and deals in a diverse range of products and services. Apple's dedication to operations research and management makes it one of the most efficient companies in the world. A few aspects of the company's operations management strategy include:
Process and capacity: Apple works closely with suppliers throughout their product chains to ensure efficient processes are in place. Individual suppliers are given directives for process design, and are also supplied with the Apple Supplier Code of Conduct to assist in their HR management.
Locations: Apple limits their seller authorization and typically places their Apple Stores in urban centers. Despite this highly selective approach to selling, the company is among the world's most profitable.
Inventory management: Apple uses serialized inventory management to track products. The company uses the FIFO (first-in, first-out) method to ensure that older models are sold before new ones are released, eliminating wasteful production.
Productivity management is also an integral part of Apple's operations strategy. The company measures store productivity by tracking revenue per square foot; supplier productivity using product units per time; and product-development employee productivity by milestones per time period. Due to Apple's size and product complexity, it heavily invests in a carefully implemented operations strategy to minimize costs and waste and maximize profits.
References