Can you read by the light of a rhododendron or work under wisteria-generated illumination?
A merger of nanotechnology and botany might one day enable you to bask in the glow of ginkos. Researchers at MIT have succeeded in inducing a watercress plant to emit dim light for almost four hours by embedding nanoparticles into its leaves.
"The vision is to make a plant that will function as a desk lamp—a lamp that you don't have to plug in. The light is ultimately powered by the energy metabolism of the plant itself," says Michael Strano, the Carbon P. Dubbs Professor of Chemical Engineering at MIT.
The researchers are advancing the emerging science of plant nanobionics in order to impart new features and functions to plants by use of nanoparticles. Plant systems have already been engineered to detect explosives and transmit that information to a smartphone.
Lighting accounts for about 20 percent of worldwide energy consumption and seemed like a logical target for nanobionics research. "Plants can self-repair, they have their own energy, and they are already adapted to the outdoor environment," Strano says. "We think this is an idea whose time has come. It's a perfect problem for plant nanobionics."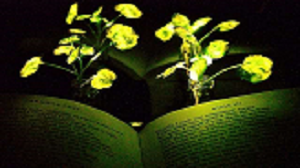 Illumination of a book ("Paradise Lost," by John Milton) with the nanobionic light-emitting plants (two 3.5-week-old watercress plants). The book and plants were placed in front of a reflective paper to increase the influence from the light-emitting plants to the book pages. Source: Kwak Seonyeong/MIT Luciferase, the enzyme that gives fireflies their glow, acts on a molecule called luciferin and results in light emission. Co-enzyme A helps the process along by removing a reaction byproduct that can inhibit luciferase activity.
Use of different nanoparticle carriers allowed each of these elements to target the desired part of the plant and prevented accumulation of potentially toxic concentrations. Silica nanoparticles of 10 nanometers in diameter were assigned to carry luciferase, while slightly larger particles of the polymers PLGA and chitosan ferried luciferin and coenzyme A, respectively. Plants were immersed in solutions containing suspended nanoparticles and then subjected to high pressure, allowing particles to enter leaves through stomata.
Particles releasing luciferin and coenzyme A were designed to accumulate in the extracellular space of the mesophyll, an inner layer of the leaf, while the smaller particles carrying luciferase enter the cells that make up the mesophyll. The PLGA particles gradually release luciferin, which then enters the plant cells, where luciferase performs the chemical reaction that makes luciferin glow.
Initial efforts yielded plants that could glow for about 45 minutes, a duration recently extended to 3.5 hours. The light generated by one 10-centimeter watercress seedling is about one-thousandth of the amount needed to read by, but the researchers believe they can boost the light emitted, and its duration, by further optimizing concentration and release rates of the components.
This approach has also been demonstrated with arugula, kale and spinach. The researchers have also turned the light off by adding nanoparticles carrying a luciferase inhibitor. This might lead to plants that shut off their light emission in response to environmental conditions such as sunlight.
Development of a means to paint or spray nanoparticles onto plant leaves could make it possible to transform trees and other large plants into light sources.