Watch: Infrared imaging pictures deep tumors
S. Himmelstein | October 07, 2019
The ability of clinicians to image cancerous tumors sited deep below the skin's surface improves with the development of an infrared vision technique by Stanford University researchers. The method uses nanoparticles that can light up and image tumors located well below the surface of the skin, enabling diagnosis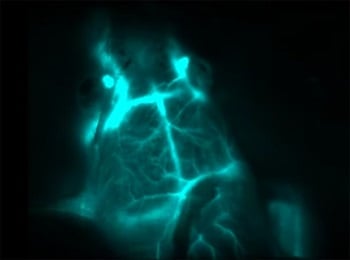 Brain vessels of a live mouse are illuminated in infrared light by erbium nanoparticle probes. Source: Stanford Universityand monitoring of tumor progression.
Nanoparticles of the rare earth erbium glow when exposed to low-powered LED light and illuminate target tissues with high resolution. A coating enhances the biocompatibility of the nanoparticles and allows them to dissolve in the bloodstream.
The technique was demonstrated to illuminate living mouse brains to reveal tumors that are receptive to cancer medications. This was achieved by attaching an antibody to the nanoparticles and targeting a specific protein that makes cells susceptible to the drugs. Cancer cells and T cells were then simultaneously imaged by combining the nanoparticles with a near-infrared imaging modality, resulting in a multi-colored depiction of the immune response to a tumor's presence.
Infrared vision can also be of value in predicting how individual patients will respond to specific immunotherapy regimens and improving the accuracy of tumor excision.