Temperature-Sensitive Gel Could Seal Eye Injuries
S. Himmelstein | December 09, 2017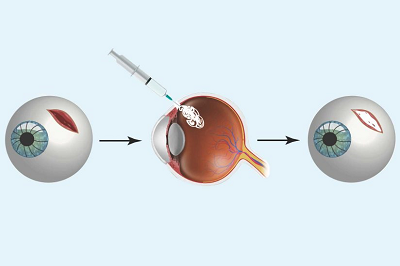 A new hydrogel developed can treat patients in the field before they have access to hospital facilities. Illustration/Niki Bayat et al., Science Translational MedicineTraumatic eye injuries require rapid treatment to prevent deterioration of vision. Immediate care may not be available on the battlefield or in other situations where medical facilities are not immediately accessible.
A temperature-responsive synthetic hydrogel may offer a remedial alternative to conventional adhesives or suturing. The temporary seal developed at University of Southern California (USC) changes from a fluid to a strong semi-solid when applied to the eye. When the patient is ready for surgery to permanently close the injury, doctors can remove the seal by adding cool water.
The sealant is derived from an advanced material previously researched as a possible adhesive for a retinal implant. When cooled, the PNIPAM (poly(N-isopropylacrylamide)) hydrogel became a liquid for easy application, and when heated, converted to a viscous semi-solid with strong adhesion.
"Since the initial hydrogel's transition temperature was very close to the temperature of the human eye, we had to modify its properties to ensure that it would form a solid seal as soon as the gel was applied to the eye by a soldier or medic," said lead author Niki Bayat, a doctoral candidate in the Mork Family Department of Chemical Engineering and Materials Science at USC Viterbi. "Providing a perfect, yet reversible seal, the smart hydrogel shows promise for the next generation of tissue adhesives."
A special syringe was also designed to streamline hydrogel application on the front lines and capable of quickly cooling the material before use. A cooling chamber is filled with calcium ammonium nitrate crystals, such as those used in instant ice cold packs. Addition of water to the chamber activates the crystals and cools the hydrogel to operating temperatures within 30 seconds.
"We were able to optimize the delivery device so that it not only rapidly cools the hydrogel but also holds it at that temperature, giving users a 10-minute window to fill penetrations in the eye," said John Whalen, assistant professor of research ophthalmology at the USC Roski Eye Institute. "It's very simple to use — almost like caulking a bathroom seal."
The customized seal and delivery device could also reduce wound repair time from 30 minutes or longer to less than five minutes, providing valuable time for first responders and trauma units to close penetrating eye injuries.
The hydrogel improved pressure within the eye when tested on animal model eyes with penetrating injuries, which may be critical for preventing retinal detachment that can ultimately lead to vision loss.
The researchers hope to initiate clinical safety testing in humans in 2019.