A smart contact lens of many colors
S. Himmelstein | February 21, 2020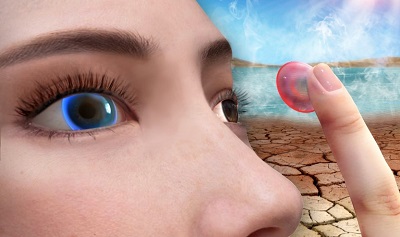 The red lens turns blue when placed on an abnormally dry eye. Source: Du Xuemin, Chinese Academy of SciencesA contact lens designed at the Chinese Academy of Sciences can serve as a platform for point of care diagnosis of eye diseases. The lens changes color to signal that the wearer suffers from glaucoma or xerophthalmia, an abnormally dry eye condition.
Changes in eye moisture and pressure result in color alterations of a biocompatible hydrogel synthesized without the addition of any chemical pigments. Periodic nanostructures within the poly(2-hydroxyethyl methacrylate) hydrogel change from red to blue within 25 minutes of lens placement on an excessively dry eye. Sensing high intraocular pressure results in a linear decrease in the wavelength of the reflectance peak, causing the smart lens to appear green.
The structurally colored contact lens sensors can advance instrument-free and real time ophthalmic health monitoring.