Planting Roadside Trees to Curb Particulates
S. Himmelstein | December 07, 2017
In addition to their aesthetic value and provision of food and shelter for wildlife, trees function as carbon banks and air purifiers. Could the placement of these photosynthetic pollution controls have an impact on local air quality? Cornell University engineering students are developing a computational fluid dynamics model to optimize tree planting on highways near residential areas as a means of reducing particulates.
"We will be modeling trees and other vegetation, while exploring different designs and ways to scrub the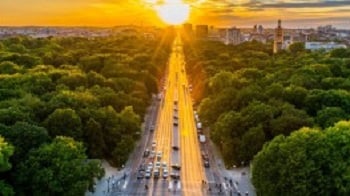 A computer model is under development to strategically place trees on highways to mitigate particulate pollution. Source: Cornell Universityparticle pollution," said doctoral candidate Khaled Hashad. "For the next five years, we'll be examining the space between trees in mitigating pollution from the highway, finding the best species and assembling a model to determine which trees belong where. And then we'll measure the model's efficacy."
More than 12,000 trees will be planted annually along highways in Louisville, Kentucky, over the five-year Green Heart Project, which is managed by the University of Louisville School of Medicine. Vegetation will increase by about 30 percent by 2022, which is the project's final year.
The Cornell team will focus on particulates smaller than 100 nanometers in diameter and those smaller than 2.5 microns in diameter, also known as PM2.5. The researchers will monitor leaf density, turbulence and how trees affect the flow of air from highways to neighborhoods, and determine if trees grown in a streamline shape will reduce pollution. Other project elements will track 700 Louisville residents to see how greening the highways can improve human health.
"It is a coupling of aerosol dynamics, chemistry along with fluid effects," said undergraduate researcher Dan Shaw. "Between the cars and the road, and the road and the surroundings, it is possible to alter the fate and transport of the pollutants and mitigate the health risks."