South Opts for Natural Gas as Coal Declines
David Wagman | December 05, 2017
Coal's share of total electricity generation in the southern U.S. declined over the past decade, from 50 percent in 2006 to 29 percent in 2016.
As the use of coal has declined, the use of natural gas has increased. In 2016, southern states used natural gas for 42 percent of their electricity generation, a bigger share than the U.S. average of 34 percent.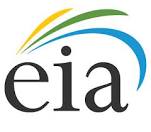 The Energy Department's Energy Information Administration (EIA) says that the mix of fuels used to generate electricity varies among southern states, but the overall mix is dominated by natural gas and coal. At the state level, natural gas made up as much as 89 percent of in-state electricity generation in Delaware to as little as 2 percent in West Virginia.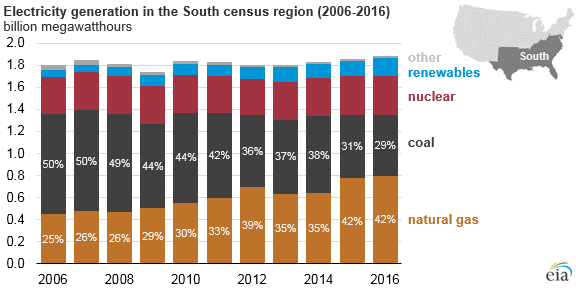 Source: EIACompetition between the fuels for electricity generation has resulted in U.S. net generation of electricity from natural gas surpassing coal for the first time in 2016. For the South as a whole, natural gas surpassed coal for electricity generation in 2012, 2015 and 2016.
Within the South, the share of natural gas used for electric generation in Arkansas, Louisiana, Oklahoma and Texas has been larger than the share of coal for more than a decade. In Alabama, Kentucky, Mississippi and Tennessee, coal-fired electricity generation remains higher than natural gas-fired generation, although the difference has narrowed. In West Virginia, Maryland and Delaware and along the Atlantic Ocean to Florida, natural gas first surpassed coal used for electricity generation in 2015.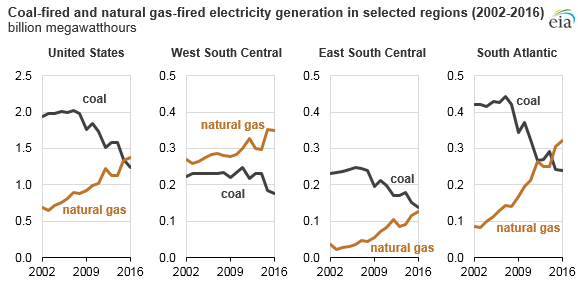 Source: EIAMost Southern states that use coal for the largest share of their electricity generation are part of the Northern or Central Appalachian basins, two of five major coal mining regions in the United States. West Virginia and Kentucky are among the top five coal mining states, and both states use coal for most of their electricity generation — 94 percent and 83 percent, respectively.
EIA says that more coal-fired generating units were retired in the South between 2006 and 2016 than units fueled by any other fuel type, with 20.8 gigawatts (GW) of capacity taken offline during that period.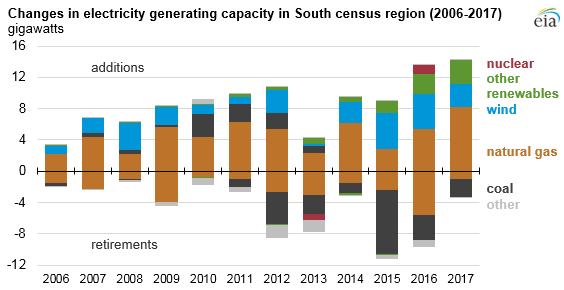 Source: EIAAlthough 9.6 GW of coal capacity was added between 2007 and 2013, no coal units have been installed since 2013. New installed capacity in the region came primarily from natural gas and wind, with an additional 47.0 GW and 25.6 GW installed, respectively, between 2006 and 2017.
Wind additions in the South have been concentrated in Texas and Oklahoma, which ranked first and third nationally for total installed wind capacity as of September 2017.