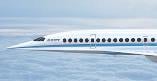 Source: Boom Supersonic
Japan Airlines is investing $10 million in Boom Supersonic, which is developing a supersonic aircraft capable of speeds at Mach 2.2. The airline has an option to buy up to 20 of the aircraft, which carry a price tag of $200 million each.
As part of the agreement, JAL will provide its knowledge and experience to refine the aircraft design and help define the passenger experience for supersonic travel. JAL has been working behind the scenes with Boom for more than a year.
The Denver-based company's XB-1 Supersonic Demonstrator is scheduled to fly in 2018. The company will then pursue FAA certification with an eye toward passenger flights in the early 2020s.
Boom is already working with Spaceship Co., the manufacturing division of Richard Branson's Virgin Galactic. Spaceship is providing engineering, design and flight-test support services.
Boom Supersonic says that the now-retired Concorde supersonic aircraft was troubled by high operating costs driven by fuel consumption, and low utilization and load factors due to high fares.
Boom says that a viable supersonic aircraft requires no more than a 30 percent efficiency improvement over Concorde's 50-year-old airframe and engines. It says the basic technologies required that improvement exist today and some, such as composite structures, have been accepted by regulators.
With up to 55 seats, the Boom aircraft is expected by its developer to achieve load factors similar to or better than premium cabins in subsonic wide body aircraft.
Boom says it aims to certify the aircraft to FAA Part 25 standards, similar to other large passenger aircraft. It also expects to comply with special conditions related specifically to supersonic flight.
The XB-1 Supersonic Demonstrator will receive an airworthiness certificate in the experimental R&D category.