Accelerating nacelle technology for use in supersonic airliners
Peter Brown | November 19, 2020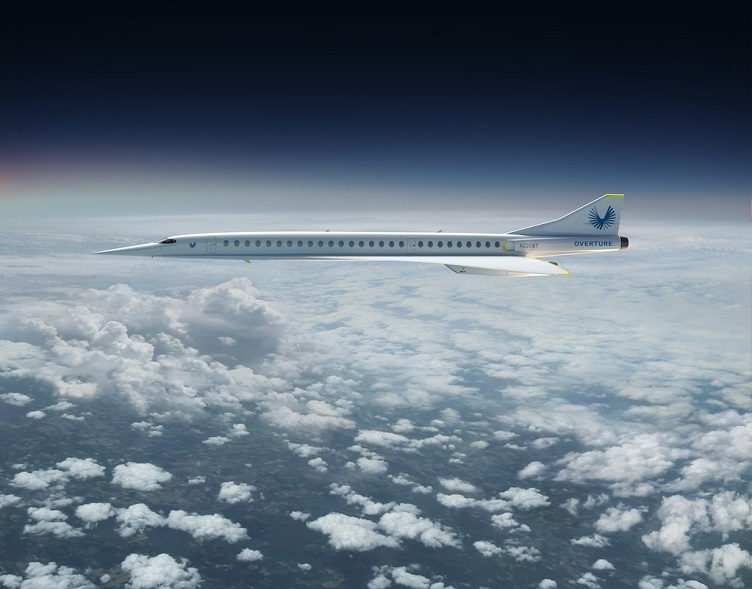 An artist's rendering of the Overture supersonic aircraft that is schedule to be completed by 2025. Source: Boom Supersonic
Boom Supersonic is developing a new airliner for supersonic travel called Overture with the first aircraft to be rolled out in 2025.
Ahead of that roll out, Boom is working with Collins Aerospace to accelerate the development of nacelle technology that will be included in the supersonic airliner.
Boom claims Overture will be the world's fastest airliner and will work with Collins Aerospace to develop inlet, nacelle and exhaust system technologies to enable fuel-burn reduction and acoustics for quieter and cleaner supersonic flight. Nacelle engine technologies can make aircraft more environmentally friendly through increased fuel efficiency and reduced engine noise, something that is critically important in commercial supersonic airliners, Collins Aerospace said.
"Through improved acoustics and lightweight materials systems, we can provide the next generation of supersonic propulsion systems with the nacelle technologies that not only enable higher performance and lower fuel burn, but also quieter operation," said Marc Duvall, president of aerostructures at Collins Aerospace.
Boom said it is working toward making Overture 100% carbon neutral to minimize community and emissions while making mainstream supersonic travel sustainable. Using Collins Aerospace's nacelle technologies will help in that endeavor, the company said.
Development of the Overture supersonic aircraft will include the supersonic demonstrator aircraft, XB-1. Slated to fly for the first time in 2021 and to undergo a 100% carbon-neutral flight test program, Boom will use the aircraft to demonstrate its propulsion efficiency and showcase what Overture will eventually be when it is rolled out.
XB-1 will feature a 71 ft long fuselage optimized for high speed aerodynamic flight with a carbon-composite airframe and a delta wing that balances low-speed stability at takeoff and landing. The XB-1 features three J85-15 engines, designed by General Electric, to provide more than 12,000 lb of thrust.
After rollout, the XB-1 demonstrator aircraft will undergo ground testing before heading to Mojave, California, in 2021 for a flight test. During this time, Boom will finalize Overture's propulsion system and conduct wind tunnel tests to validate the design. When XB-1 breaks the sound barrier in flight, Boom will begin the final design for Overture for rollout in 2025 with service to begin in 2029.