A Bottom-Up Analysis of US Livestock Methane Emissions
S. Himmelstein | December 03, 2017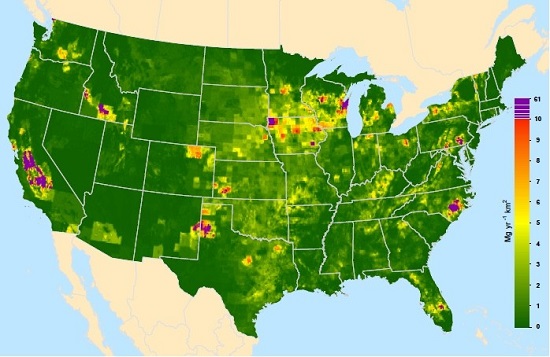 The researchers estimated methane emissions using a "gridded" approach, dividing the U.S. into 0.1- by 0.1-degree geographic information system (GIS) units. The study pegged total U.S. livestock methane emissions of 19.6 billion pounds per year. This map shows where they are coming from. Source: Penn State
According to the U.S. Environmental Protection Agency (EPA), the livestock industry is the second-biggest methane emitter in the U.S., accounting for 36 percent of the total. The gas evolves from the microbial fermentation that occurs in the animals' stomachs, resulting in digestion-related (enteric) emissions, and from fermentation in their manure. The total amount depends on the type of animal, what the animals eat and how their manure is stored. For example, cattle that mostly consume grain-based feed release significantly less enteric methane than cattle that graze on pasture.
Current estimates of total livestock methane emissions may rely on outdated emission factors and do not fully consider feed intake and differences in animal diets, or the facilities used to store manure. These data gaps lead to large uncertainties in methane emission figures.
Top-down emissions estimates involve monitoring atmospheric methane concentrations by satellites or from air samples collected at high altitude by planes, and using models to estimate the sources of emissions. Bottom-up estimates take into account livestock populations and animal emission factors. The latter approach was used by University of Pennsylvania researchers to estimate enteric methane emissions for cattle and manure methane emissions for cattle, swine and poultry for the contiguous U.S.
The country was divided into 0.1 by 0.1-degree geographic information system (GIS) units, which created cells from 31 square miles in the northern U.S. to 42 square miles in the southern part of the country.
The team analyzed feed intake data for cattle, as well as manure storage practices for cattle, pigs and poultry, at the county and state levels. The resulting estimates for methane emissions by location varied widely from numbers currently reported by inventories such as the European Emission Database for Global Atmospheric Research (EDGAR). For example, the combined enteric and manure methane emissions from livestock in Texas and California were 36 percent less and 100 percent greater, respectively, than estimates by EDGAR. Based on their data, the researchers say that results from studies that use inaccurate distribution inventories to determine emissions sources should be cautiously interpreted.
Total U.S. livestock methane emissions of 19.6 billion pounds per year were estimated, but the researchers acknowledge that uncertainty surrounding this figure is high.
"Our analysis showed that the EPA's estimates are close to reality, but there is a discrepancy in the spatial distribution of emissions. And, our research revealed a great discrepancy with global models such as the EDGAR inventory," said Alex Hristov, professor of dairy nutrition.