Video: NASA paints a 3D portrait of atmospheric methane
S. Himmelstein | March 25, 2020
Researchers may now use a new data visualization tool developed by NASA to track sources of methane emissions and the atmospheric movement of this important greenhouse gas.
The 3D map is based on multiple data sets from national and international emissions inventories and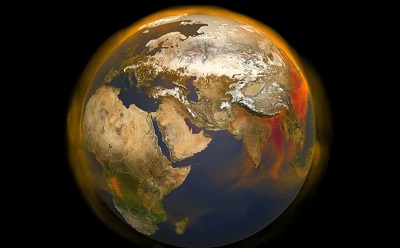 NASA developed a 3D map to help track atmospheric methane. Source: NASA/Scientific Visualization Studiosimulations of wetlands. These trends are combined with a computer model that estimates methane emissions based on known processes for specific land-cover types, such as rice fields, and simulates the atmospheric chemistry that breaks down methane and removes it from air.
Regional observations gleaned from the 3D tool include confirmation that the Amazon River basin and its adjacent wetlands are significant sources of methane, largely due to the seasonal flooding that supports an oxygen-deprived environment. Rice cultivation and livestock are major methane sources in India, while human population and fossil fuel transport are the main sources in Europe. High latitude regions, including the Arctic, are responsible for about 20% of global methane emissions while tropical regions account for 60%.
The mapping system will be used to analyze the atmospheric fate of methane and its role in Earth's carbon cycle and climate system.