What would you build in a cleanroom equipped with a Nanoscribe and a laser 3D printer? Researchers at Oak Ridge National Laboratory's Center for Nanophase Materials Sciences (CNMS) used these tools to assemble what is quite possibly the world's smallest fidget spinner.
Why would scientists make a fidget spinner smaller than the width of a human hair? Creating a microscale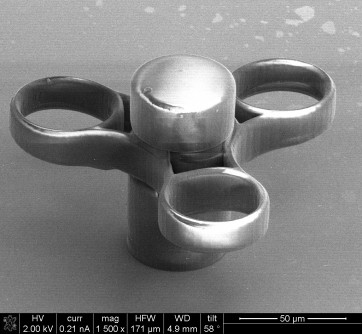 Researchers created a microscale fidget spinner that measures only 100 microns wide, or one tenth of a millimeter, as an outreach tool for students. Source: Oak Ridge National Laboratory, U.S. Dept. of Energyfidget spinner measuring only 100 microns wide showcases the facility's advanced resources and expertise available to researchers worldwide. More than 650 researchers used CNMS resources in 2016 to conduct wide-ranging experiments in nanomaterials synthesis; nanofabrication; imaging, microscopy and characterization; and theory, modeling and simulation.
"We felt like it would be an interesting demonstration for younger people who may not know that the federal government maintains these user facilities around the country, which anybody can use as long as they submit a successful proposal," said ORNL's Adam Rondinone.
The Nanoscribe machine is also used by researchers to create microfluidic and micromechanical devices for scientific applications. The instrument uses a focused laser to convert a liquid into a solid at a microscopic level. This process, much like 3D printing, allows researchers to precisely design and build complex designs to make functional microscale devices with moving components.
"Our job is to offer cutting-edge experiments, instrumentation and expertise, to help other scientists to achieve their goals," Rondinone said.
All the tools at CNMS are available through the facility's user program, which is open to users from academia, the private sector and research institutes. Access is free of charge to users who publish the results in the open literature.
An interactive microscopic fidget spinner exhibit is planned as part of ORNL's Traveling Science Fair.
"It's a compelling way for us to reach out to the next generation of scientists," Rondinone said.