Lithium-ion Capacitors Replacing EDLCs
Shawn Martin | November 28, 2017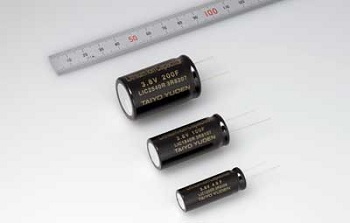 Source: Taiyo Yuden Co., Ltd.Lithium-ion capacitors surpass the performance of the conventional supercapacitors, also referred to as Electrical Double Layer Capacitors (EDLC), with unmatched self-discharge characteristics, higher energy densities, high-temperature stability and a compact footprint.
The design of the supercapacitor is based on electric double layer capacitance. When compared to lithium-ion capacitors, they provide inadequate power density as well as energy density when operating in excess of 2.2 volts.
Taiyo Yuden's lithium-ion capacitors are a direct replacement for supercapacitors. They are most commonly used as supplementary power sources in servers, medical equipment and manufacturing equipment, where constant voltage sources are critical. They also serve to compensate for uneven voltage levels with solar panels and even act as a primary power source in small devices.