Maybe you're traveling by air during this holiday season for pleasure or business. After you've identified your seat and are busily staring at the seat-back in front of you, do you muse about how some basic things work inside this flying behemoth? Here are a few questions to ponder during your flight, along with the requisite answers with which to astonish your seatmates.
The Lavatory
Just about everyone wonders how bathrooms aboard airplanes function. What happens when you flush at 35,000 feet?
Up until the 1980s, commercial airplane toilets used electric pumps and a blue deodorizing liquid to push waste from the bowl into onboard storage tanks. These toilets and their liquid were heavy, maintenance-intensive and posed some risks. Many blue liquid formulas were formaldehyde- and bleach-based, which are severe eye and skin irritants. Occasionally the liquid would leak out of the aircraft and freeze into an ice block, eventually breaking off and forming the basis for many blue ice stories on the ground.
These were largely supplanted in the early 1980s by the vacuum toilet, the loud lavatory fixture with which you are probably most familiar. Unlike conventional siphoning or washdown toilets, the vacuum system consumes very little water to do its duty. As a valve opens in the bottom of the non-stick coated bowl, a pneumatic vacuum transports the contents through the craft's sewer line and into a holding tank; an exterior latch ensures that pilots don't inadvertently let the loo contents loose before landing. A ground crew will vacuum out the tank at flight's end.
Wi-Fi in the Sky
No need to experience withdrawal from digital toys while en route. In-flight Wi-Fi is getting faster and cheaper, and is an increasingly common offering on airlines. How does in-flight Wi-Fi work? Airplanes use many of the same towers and satellites that deliver data to our smartphones, connecting to towers on the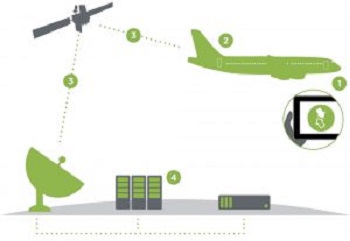 Satellite-based Wi-Fi. Image courtesy of OnAir.ground or to satellites.
Ground-based mobile broadband towers send signals up to an aircraft's antennas, located on the belly of the plane. The system automatically connects to signals from the nearest tower, so theoretically there should be no interruption. Connectivity can be an issue when traveling over large bodies of water or remote terrain.
Planes can also connect to satellites in geostationary orbit (35,786km above the planet), which send and receive signals to earth via receivers and transmitters. These are the same satellites that are used in television signals, weather forecasting and covert military operations. An antenna on top of the aircraft picks up the closest satellite signal, and data passes between the ground and the plane via the satellite. Wi-Fi signal is distributed to plane passengers via an on board router.
Broken Windows and Open Doors
The risk of a window breaking or a cabin door opening mid-flight is about as rare as receiving an edible meal during your trip. But let's consider the mechanics and impacts of these situations.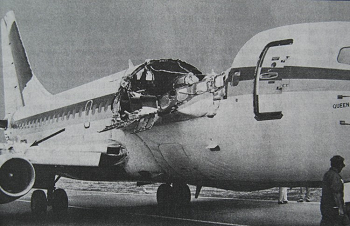 The fuselage of Aloha Airlines Flight 243 after suffering an explosive decompression while in flight on April 28, 1988. Source: National Transportation Safety BoardOne cannot open the doors or emergency hatches of an airplane in flight, because cabin pressure won't allow it. According to airline pilot and author Patrick Smith, "At a typical cruising altitude, up to eight pounds of pressure are pushing against every square inch of interior fuselage. That's over eleven hundred pounds against each square foot of door." Next.
Sudden decompression would occur if a large opening appeared in the craft. Cabin temperature would quickly plummet to frostbite-inducing levels, and the plane could begin to break apart. In 1988, an Aloha Airlines flight with 90 people on board was en route to Honolulu, cruising at an altitude of 24,000 feet, when a small section of the roof ruptured. The resulting explosive decompression tore off a larger section of the Boeing 737's roof and ejected a flight attendant. The pilot managed to land 13 minutes later, and subsequent analysis attributed the event to fuselage failure due to fatigue cracking.
Here's an extreme case of window breakage. During a June 1990 British Airways Flight 5390 from Birmingham, England to Malaga, Spain the windscreen separated from the fuselage of the a BAC One-Eleven Series 528FL in front of the captain's seat. The door to the flight deck was blown out as the captain was propelled forward, leaving his torso hanging outside of the plane. An emergency landing by the copilot resulted in no loss of life, and accident investigators discovered that 84 of the 90 windscreen retention bolts were too small or too short. The windscreen failure was ascribed to air pressure difference between the cabin and the outside during the flight.
Now please ensure that your seat belt is fastened, your seat back is upright and your tray-table is stowed. And have a safe and enjoyable flight.