Video: Innovative Pre-Swirl Stator to Improve Ship Fuel Efficiency
S. Himmelstein | November 16, 2017
A new solution added to Wärtsilä's propulsion efficiency portfolio promises to return ship operators' investment in less than two years. The new Wärtsilä EnergoFlow, the next-generation pre-swirl stator, is the result of years of research and experimentation with hydrodynamics, energy-saving propulsion efficiency concepts and pre-swirl models.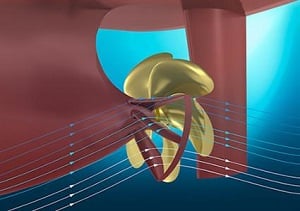 (Source: Wärtsilä)The Wärtsilä EnergoFlow's design guides one side of the stern flow in the opposite direction of the propeller rotation. The stator's multiple fins, which are attached to the ship's hull, optimize the flow into the propeller and prevent power losses. The curved fins minimize the viscous resistance while the ring connecting the fins at their tips decreases the peak stress of each fin.
Cutting fuel costs is a high priority for ship operators. With the Wärtsilä EnergoFlow, it is possible to achieve fuel savings of up to 10 percent. This efficiency boost reduces fuel consumption and thereby lowers operating costs.
"Wärtsilä's solution enables the accurate directing of the pre-swirl flow. This in turn supports our customers in their fuel saving efforts by lowering resistance," says Tamara de Gruyter, Vice President, Propulsion System Services. "As the result of increased propulsive efficiency and subsequent energy savings, Wärtsilä EnergoFlow reduces the emissions of ships. Investments in energy-efficient solutions ensure cost savings, compliance with maritime regulations and reduced environmental footprint."
The impact of the Wärtsilä EnergoFlow on fuel consumption is the largest for bulk carriers, tankers, and other full form vessels. Regardless of ship type, the Wärtsilä EnergoFlow pays for itself within 1–2 years of operation. The Wärtsilä EnergoFlow is developed with an extra focus on the services market.