First Hybrid Propulsion System for Fish Farming Ship
S. Himmelstein | August 18, 2017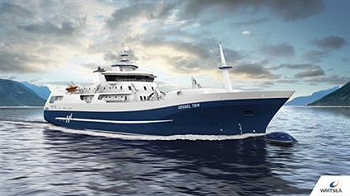 The new salmon processing and transportation vessel for Hav Line AS, Norway, will be the first of its kind with a hybrid/battery solution. Source: WärtsiläA hybrid propulsion system is being integrated into a new fish processing and transportation ship by Wärtsilä. The vessel is to be built at the Balenciaga shipyard in Spain on behalf of Hav Line AS of Norway. This is the first such vessel for the fish farming industry to utilize this hybrid solution.
The integrated solution includes the initial, basic and detailed ship design, a 10-cylinder Wärtsilä 31 main engine, a Wärtsilä two-speed gearbox, a Wärtsilä controllable pitch propeller (CPP), including the HP propeller nozzle, stern tube seals and bearings, the Wärtsilä ProTouch propulsion remote control system, two nine-cylinder Wärtsilä 20 auxiliary engines and the electrical and automation system, including a hybrid battery PTI/PTO package.
The two-speed gearbox enables lower propeller speeds and optimized propulsion efficiency during transit, while still using the main engine to power the shaft alternator. The design lowers fuel costs for electrical power generation. The custom designed CPP propeller is of Wärtsilä's successful G-hub configuration and is combined with the HP nozzle. This provides maximum reliability and efficiency and is a popular choice for vessels with this operational profile.
The company's solutions will be delivered during autumn 2017. The vessel is scheduled for delivery in summer 2018.