Corvus Energy to Power Industry's First Hybrid Fish Farm Processing Vessel
S. Himmelstein | October 27, 2017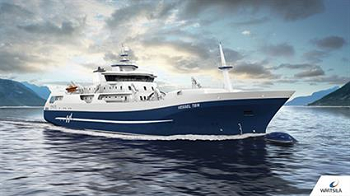 Source: Wärtsilä/Corvus Energy
Corvus Energy (Richmond, BC, Canada) has been selected by Wärtsilä as the supplier of a lithium ion-based energy storage system (ESS) for the world's first full service hybrid fish farm processing and transport vessel. The Orca Energy ESS from Corvus will supply electrical power to the vessels' propulsion system to enable environmentally-friendly and lower cost operations.
Wärtsilä has been contracted to deliver the ship design and hybrid propulsion system for the vessel to be built at the Balenciaga shipyard in Spain, on behalf of Hav Line AS of Norway. The Wärtsilä hybrid propulsion system utilizing the Orca ESS from Corvus benefits both the environment and the ship owner through the reduction of emissions and operating costs.
As the leading manufacturer of energy storage systems for maritime applications, Corvus continues to lead the industry with 100+ projects utilizing a Corvus ESS, now totaling over 75MWh and 1.5 million operating hours.