Ford Is Testing an Exoskeletal Device on the Assembly Floor
David Wagman | November 09, 2017
An upper body exoskeletal tool is being tested at Ford Motor production plants as a way to reduce worker injuries on the assembly line.
Called EksoVest, the wearable technology elevates and supports a worker's arms while he or she performs overhead tasks. It can be fitted to support workers ranging from 5 ft. to 6 ft., 4 in.tall, and provides adjustable lift assistance of five to 15 lb. per arm. The device was developed by California-based Ekso Bionics.
The non-powered vest is designed to offer protection and support against fatigue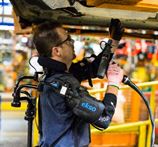 The device helps support a worker's arms for overhead tasks. Source: Ford and injury by reducing the stress and strain of high-frequency, long-duration activities.
With support from the United Automobile Workers and Ford, EksoVest is being piloted in two U.S. plants, with plans to test in other regions, including Europe and South America.
To date, Ford says that ergonomists have worked on more than 100 new vehicle launches globally using ergonomic technology tools, including most recently the 2018 Ford Mustang, 2018 Ford F-150, and the 2018 Ford Expedition and 2018 Lincoln Navigator. Ford says its investments have helped it achieve a 90% drop in such ergonomic issues as overextended movements, difficult hand clearance and tasks involving hard-to-install parts.
Since 2005, that company says that incidents in Ford's North America facilities that resulted in time away from the job fell 83%; the 2016 incident rate was the lowest on record.