Ford Motor Co. says it plans to build plug-in hybrid vehicles in China to meet growing demand in the world's largest auto market.
The Mondeo Energi, to be launched in early 2018, will be the first plug-in hybrid manufactured by the Changan Ford joint venture. Ford also confirmed plans to bring a fully electric small SUV to China within five years. The company says that by 2025, fully 70% of all Ford nameplates in China will have electrified powertrain options, including plug-in hybrids and fully battery-powered electric vehicles.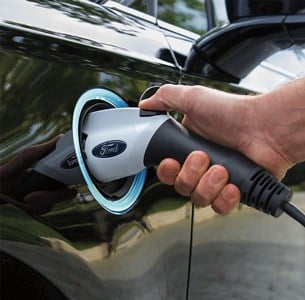 By 2025, 70% of Ford nameplates in China will have electrified powertrain options.Ford says that China is the world's largest new energy vehicle market thanks to government support and growing customer acceptance. According to the Society of Automotive Engineers of China, by 2025 new energy vehicles are expected to account for over 15% of total passenger vehicle sales in China.
"The time is right for Ford to expand our EV lineup and investments in China," says Mark Fields, president and CEO. "We are prioritizing our electrification efforts on China to reflect its importance as a global electrified vehicle market."
In addition, by 2020 Ford says it will start manufacturing electrified powertrains in China. It also plans to expand its vehicle engineering capabilities at its Nanjing Research and Engineering Centre, with a focus on incorporating Chinese consumer needs into Ford's next-generation EV technologies.
Globally, the company says it is investing $4.5 billion to electrify its most-popular, highest-volume vehicles. In January, Ford confirmed seven of the 13 new global EVs it will launch in the next five years, including a fully electric small SUV that will be sold in China, and a hybrid autonomous vehicle designed for commercial operations in mobility services, starting in North America.
Mondeo Energi Coming in 2018
Changan Ford will start manufacturing the Mondeo Energi plug-in hybrid in Chongqing in early 2018. It will feature an electric drive range of up to 50 kilometers. The Mondeo Energi will allow drivers to use battery power around town and gas for longer trips.
Ford will also bring to market a fully electric small SUV to China within five years. The SUV will deliver an estimated range of more than 450 kilometers and will be sold in North America and Europe, as well as China.
Ford's C-MAX Energi plug-in hybrid is already on the road in China as a fleet vehicle.
Powertrain Development
Ford says it is expanding its China-based electrified powertrain development capabilities to support its growing EV lineup and manufacturing capability. The new energy vehicle team in Nanjing will also assist the global team to develop next generation EV technologies.
On top of global projects, Ford's new energy vehicle team in China leads the development of unique components of new energy vehicles launched in China, such as charge cord and port. It is also responsible for the localization of key EV technologies and systems, including battery, battery pack assembly, and powertrain controls validation and calibration, as well as homologation certification.