Alaska LNG Export Project Gets Chinese Backing
David Wagman | November 09, 2017
Alaska's North Slope may be poised for a second energy boom after agreements were signed in Beijing on November 9 between state and Chinese officials to jointly promote a $43 billion liquefied natural gas project.
Alaska Gasline Development Corp. (AGDC), the State of Alaska, China Petrochemical Corp. (Sinopec), CIC Capital Corp. (CIC Capital), and Bank of China (BOC), signed a joint development agreement to advance Alaska LNG.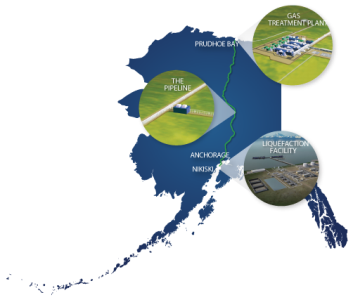 (Click to enlarge.) The project would stretch from Alaska's North Slope to port facilities near Anchorage. Credit: AGDCThe project is designed as a 20 million tonnes per annum (MTPA) integrated LNG system made up of a three-train liquefaction plant in south central Alaska at Nikiski; an approximately 800 mile, 1.1-meter-diameter gas pipeline; a gas treatment plant on the North Slope of Alaska; and other facilities to connect the Prudhoe Bay gas complex to the gas treatment plant south of Anchorage. (View a project map.)
Under the agreement, the parties will work on LNG marketing, financing, investment model, and Chinese content in the project. The liquefaction facility could enter service as early as 2023 and signal the start of exports.
Party Like It's 1975
The state's governor, Bill Walker, says the agreement "will provide Alaska with an economic boom comparable to the development of the Trans-Alaska Pipeline System in the 1970s." Project backers tout Alaska's proximity via ocean routes to Asian markets. They say that a Q-Flex class LNG carrier capable of carrying 217,000 cubic meters of gas could make the voyage in seven to nine days. Shipping times between Houston and Shanghai can be as long as 30 days.
Walker said the agreement has "all five necessary signatories—the buyer, the lender, the investor, the developer and the state."
Bloomberg reports that Exxon Mobil Corp., ConocoPhillips, BP Plc, and TransCanada Corp. had been involved in the effort, but withdrew after estimating in 2012 that costs could reach $65 billion and construction take more than a decade to complete. The news agency says that a global oversupply from new ventures coming online in Australia and the U.S. Gulf Coast has slowed further investment, including those involving less expensive and less-complicated expansions of existing developments.
Federal Approval
Alaska LNG is an Alaska effort that requires several federal authorizations and a National Environmental Policy Act (NEPA) review. The developer says that Federal Energy Regulatory Commission (FERC) is the lead federal agency responsible for conducting the environmental review.
In April 2017, AGDC submitted--under Section 3(a) of the Natural Gas Act and Part 153 of the FERC rules--an application to site, build, and operate an integrated LNG project.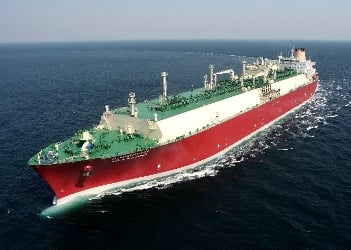 Q-Flex-class LNG carriers could make the voyage to markets in 7-9 days. Credit: WikipediaThe development web site says that Alaska's North Slope is home to North America's largest oil field and has more than 100 years of conventional natural gas supply including 35 trillion cubic feet of proven natural gas (991 billion cubic meters) in the Prudhoe Bay and Point Thomson fields.
The two fields are expected to deliver an average daily capacity of 3.5 billion cubic feet (99 million cubic meters) of natural gas per day.
Chinese Partners
Based in Beijing, Sinopec is one of the largest oil and gas companies in the world by revenue with annual revenue of $455.49 billion. Sinopec is intent on securing stable LNG supplies from Alaska.
CIC Capital is China's direct investment arm, and makes direct investments and manages bilateral and multilateral investments.
Bank of China is a state-owned commercial bank, and ranks among the top 10 largest banks in the world by market capitalization.