Non-Conventional Cyclone Separator
Shawn Martin | November 07, 2017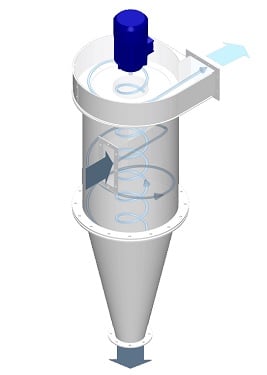 Source: LTG Incorporated
This high-efficiency cyclone offers up to 30 percent energy savings for the continuous separation of dust, particles and bulk solids. It features a wear-resistant interior lining and compact design ensuring maximum reliability and safety with considerably lower space requirements.
LTG Incorporated designed their Cyclone/Centrifugal Separator Type ZSV with an integrated fan. The compact design covers a large air volume range up to 10,000 cubic meters per hour. It also offers an increased separation capacity due to the reduced pressure loss and aerodynamic pre-swirl effect of the integrated unit.
The compact centrifugal separator offers easy installations and is available in explosion-proof models according to ATEX.