Video: The Cavex 2 hydrocyclone from Weir offers greater capacity and enhanced performance
Diana Aoun | September 06, 2021
Weir Group has revealed its next generation of hydrocyclones — the Cavex 2, featuring state-of-the-art separation technology. Weir's patent pending LIG+ advanced laminar spiral inlet and precisely designed feed chamber size enables the Cavex 2 to classify up to 30% more feed slurry while occupying the same footprint as the original Cavex or competitor cyclones.
The unique original design of the Cavex with its 360° laminar spiral inlet geometry was specially developed to precisely guide slurry into the feed chamber, resulting in a significant reduction in turbulence. Such turbulence is a result of abrupt changes to the slurry's rotation in the feed chamber which impacts the separation efficiency and creates a distinctive wear pattern into the cyclone's feed chamber walls.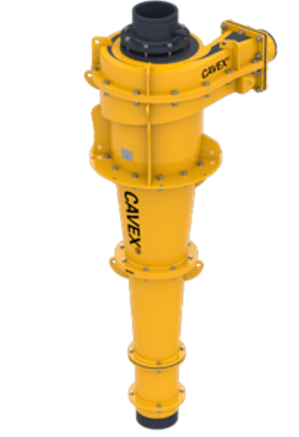 Source: Weir Group
Weir has built on this inlet geometry further with the Cavex 2 hydrocyclones, which feature the LIG+ inlet and chamber design. This advanced laminar inlet geometry further reduces turbulence while increasing the hydrocyclone's capacity.
The Cavex 2 hydrocyclone is further enhanced by Weir's proprietary Synertrex IIoT technology. This intelligent technology alerts operators to any change in the hydrocyclone's underflow condition by indicating if the hydrocyclone is operating in a splash, semi-roping, roping or blocked condition. Operators can then make the required system changes to ensure hydrocyclone always runs at its optimal condition, without the need for physically inspections.
Additional benefits of the Cavex 2 include maximized plant recovery by reducing the quantity of misclassified particles by over 10%, and improvements in bypass flow of over 15%. By reducing the bypass, fewer fines are returned to the mill, resulting in less energy consumption. Furthermore, Cavex 2 hydrocyclones can be fed less water to achieve the same separation as the original Cavex hydrocyclone, resulting in significant water savings.