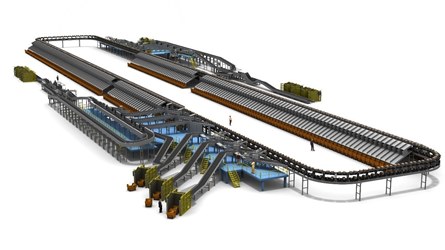 (Click to enlarge.) Artist's view of package sorting system. Source: Lockheed Martin
Lockheed Martin won a $215 million contract to provide 10 package processing systems for the U.S. Postal Service.
The Indefinite Delivery Indefinite Quantity (IDIQ) contract will provide Enhanced Package Processing Systems (EPPS) that are capable of separating mail pieces, reading printed and handwritten addresses, and sorting packages, priority and bundled mail, such as magazines and catalogs. The technology can process up to 25,000 packages an hour to more than 400 unique destinations.
The first EPPS will be deployed at a USPS Processing and Distribution Center currently being built in Portland, Oregon. The system is scheduled to be online in October 2018 to support the peak mailing season.
The 818,000-square-foot project is on a 48-acre site and includes a 788,845-square-foot processing and distribution center with administration, maintenance and employee support areas.
The distribution facility features areas specified for a Business Mail Entry Unit and United States Postal Inspection Services. The building also includes a total of 92 dock positions, a 29,000-square-foot vehicle maintenance facility with 15 service bays, two body shops and a wash bay.
USPS awarded the project in September 2016 to The Korte Co., which is working to meet an 18-month completion schedule.