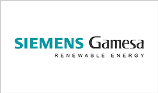 Renewable energy joint venture Siemens Gamesa says it plans to cut up to 6,000 jobs worldwide, around 20 percent of its total workforce of 26,000. The company says that sales could fall by as much as one-fifth in 2018.
The Spanish-based wind power joint venture had cut its earnings forecasts twice in recent months, and has already eliminated 700 positions.
The company said it expects sales to fall to between 9 and 9.6 billion euros in 2018 from about 11 billion in fiscal 2017.
"Our financial performance is still not at the level we're all aiming for," chief executive Markus Tacke said.
Siemens merged its wind division with Gamesa following deals that saw Germany's Nordex buy the turbine unit of Spain's Acciona and General Electric take over Alstom Energy of France.