An electricity-generating solar greenhouse designed by University of California-Santa Cruz researchers conserves water and produces fruits and vegetables of the same quality as those cultivated in conventional greenhouses. The structure incorporates Wavelength-Selective Photovoltaic Systems (WSPVs) technology that generates electricity more efficiently and at less cost than traditional photovoltaic systems.
Transparent roof panels are embedded with a bright magenta luminescent dye that absorbs light and transfers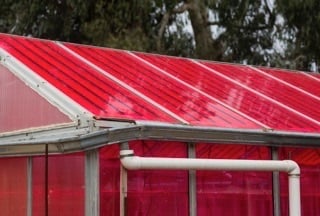 Plants grown in this "smart" greenhouse fared as well or better than plants grown in conventional greenhouses. Source: Nick Gonzalesenergy to narrow photovoltaic strips that generate electricity. WSPVs absorb some of the blue and green wavelengths of light but let the rest through, allowing the plants to grow.
"We have demonstrated that 'smart greenhouses' can capture solar energy for electricity without reducing plant growth, which is pretty exciting," said Michael Loik, professor of environmental studies.
The researchers assessed photosynthesis and fruit production across 20 varieties of tomatoes, cucumbers, lemons, limes, peppers, strawberries and basil grown in magenta glasshouses at two locations on campus and one in Watsonville, Calif. None of the plants were adversely affected by the solar energy system, and 20 percent actually grew better under the magenta solar panels. Water savings were an added benefit: plants needed 5 percent less water relative to those grown in conventional glasshouses.
Greenhouses use electricity to control temperature and power fans, lights and other monitoring systems. "This technology has the potential to take greenhouses offline," said Loik. Cost per panel of WSPV technology is 65 cents per watt — about 40 percent less than the per-watt cost of traditional silicon-based photovoltaic cells.