The Environmental Price of Pot
S. Himmelstein | November 03, 2017
Cannabis has long been used as a recreational or medicinal drug and in the manufacture of industrial hemp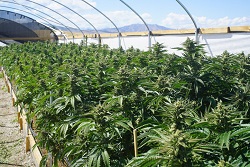 Cannabis grown in an outdoor greenhouse. (Photo by Seastock)products. Now that marijuana is legal in more than 30 U.S. states and in several countries, cultivation of this crop has greatly expanded. And this increase in pot production has resulted in some notable environmental impacts, according to a study conducted by U.S. academic researchers.
An approach for early assessment of landscape changes resulting from new agricultural activities was applied to forest fragmentation trends in northern California. The effects of cannabis cultivation were compared with those of timber harvest during 2000-2013 in Humboldt County.
Cannabis production was found to incur a small spatial footprint but to exert marked environmental pressure. While tmber has greater landscape impacts overall, cannabis causes far greater changes in key metrics on a per-unit-area basis. Cultivation of marijuana resulted in 1.5 times more forest loss and 2.5 times greater fragmentation of the landscape, breaking up large, contiguous forest into smaller patches and reducing wildlife habitat.
Current California law caps the size of outdoor cannabis production to 1 acre per parcel so as to prohibit the development of industrial-scale cannabis operations outdoors. An unintended consequence of this law may be small dispersed cannabis operations that edge out wildlife.
The long-term environmental effects of cannabis cultivation are unknown, necessitating further research to inform land management and agricultural policy.
Researchers from Ithaca College (N.Y.), University of California Cooperative Extension and the University of California-Berkeley Department of Environmental Science conducted this study.